Why you should buy ResMed shares
ResMed (ASX:RMD) is the leading global supplier of medical equipment to treat obstructive sleep apnoea, an increasingly common affliction.
The company spent most of 2022 focused on expanding its production after its key competitor, Philips, undertook the largest medical device recall in history. These efforts are starting to bear fruit with reports of solid increases in supply delivered over the past six months.
ResMed is well positioned to build on its dominant share even after Philips returns to the global market, with the launch of its latest continuous positive airway pressure (CPAP) device, the Air Sense 11, the most sophisticated device to treat sleep apnoea on the market.
And the continued growth in mask sales as patient compliance improves, provides a medium-term growth driver.
ResMed has a proven management team with the key leadership group having been with the firm for well over a decade. The company also has strong track record in the competitive medical device space and its more recent foray into software as a service has shown good signs of developing into an attractive new source of revenue.
What it does
ResMed's core business is the treatment of sleep apnoea, a common condition where airways collapse while asleep causing many periods of suffocation and the patient to awaken.
This leads to poor sleep quality in the short term and if left untreated, can cause high blood pressure along with many other detrimental health outcomes. Data from a ResMed sponsored study reported that more than one billion people suffer from sleep apnoea globally. The high incidence of this chronic condition has proven to be a lucrative market.
ResMed sells both the CPAP and related devices, along with the mask and tubing required to attach it to the patient.
Patients typically purchase a new mask every three to six months with the regular replacement of masks linked with better adherence and superior patient outcomes. The masks account for over 40% of the company's sleep revenue and this is expected to continue to grow as the installed base expands. As shown in the chart below, ResMed has delivered nearly 14% annualised growth in sleep sales since the 2005 fiscal year.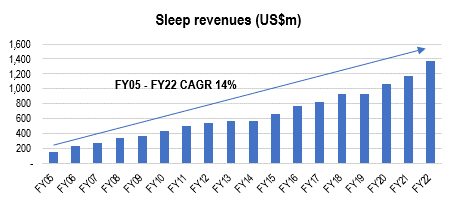 ResMed added a software division in 2016 with the purchase of Brightree, a provider to ResMed's US customers. It has since expanded via acquisitions into software as a service for care providers in settings outside of hospitals in the US and more recently Germany.
The software division now accounts for nearly 15% of group's revenue and management has guided to high single digit top line growth.
Strategy
ResMed's focus over the last 18 months has been on maximizing its market share while Philips has been out of the market. This has been constrained by the availability of key components through the global pandemic. As the supply constraints have eased, ResMed is steadily expanding its share.
With Philips return expected, the focus is now turning to holding these share gains. A key strategy here has been marketing to referring clinicians to ensure they recognise ResMed as the most technologically advanced solution with the AirSense 11, and that the group has delivered a reliable and safe solution over the last decade. We expect this approach to ensure many doctors will insist their patients are placed on only a ResMed device.
The group technology lead should hold for some years as Philips' ability to bring an updated CPAP device to market is likely to be severely limited by the regulatory oversight associated with its settlement with the US Food and Drug Administration (FDA).
The other strategic advantage ResMed has is that its devices are "connected", meaning they provide immediate feedback to the patient and the prescribing doctor.
With nearly 20 million devices in the field, ResMed has built a database of 12.5 billion nights of sleep and this data supports a constant improvement cycle. This data lead should ensure ResMed maintains a near unassailable lead over its competitors including Philips.
Looking further into the future ResMed has reported solid increases in patient adherence - i.e., patients are sticking with the treatment for longer. This positive trend supports the sale of more masks. ResMed has long been the leading supplier of masks and this high margin revenue source should continue to grow as the installed base expands and patient's adherence improves.
Returns
ResMed has a long track record of delivering strong returns. Return on equity was 28% in 2022 fiscal year and this should be sustainable over the medium term, especially as mask sales growth is set to overtake device sales supporting a lift in margins. The investment into software services should also support further expansion in returns.
Management has also indicated it expects to deliver further improvements in operating leverage as sales growth exceeds.
Recommendation
ResMed is a buy.
Get stories like this in our newsletters.