The biggest Airbnb scams and how you can avoid them
It used to be that getting scammed on holiday meant an overpriced taxi or someone pickpocketing a few hundred dollars from your wallet.
Speaking to Australian travel insurers, one of the fastest-growing cons catching people out is fake Airbnb scams - and they're ripping travellers off for thousands.
Fake hosts and fake listings are rife on the Airbnb platform.
Last month, US journalist Allie Conti revealed how she accidentally uncovered a nationwide fake Airbnb listing scam - after being scammed herself. In 2018, a Spanish family visiting Auckland lost $16,000 after their several-month-long Airbnb rental turned out to be a fake.
Aussies are not immune - figures from the Australian Competition and Consumer Commission (ACCC) showed that Australians lost more than $110,000 in fake Airbnb scams this year alone. Perth woman Amanda Klein fell victim to one such scam, originally losing more than $3000.
"I found the perfect Airbnb for three weeks in Paris for me and my husband and wanted to book straight away. We were celebrating our 25-year anniversary," says scam victim Amanda.
"The owner suggested we chat on Facebook, and they sent me the link to pay through. It looked just like the Airbnb site. When we arrived at the address after almost a full day of flying, the outside looked completely different from the Airbnb posting, and the owner had blocked me.
"We were tired and hungry and it was just the worst possible start to the trip. I feel like a right idiot looking back on it. I'm so thankful the bank came through and refunded me."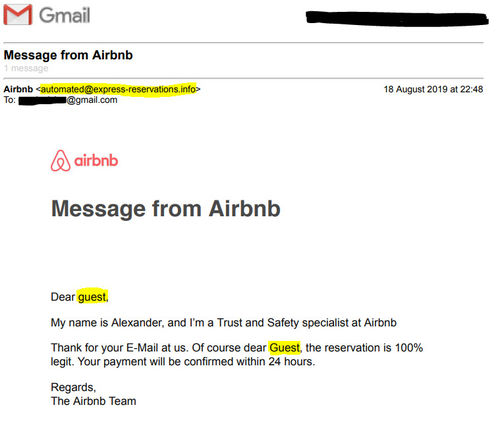 An email from a fake Airbnb listing - generic greetings and not coming from an official Airbnb email address are a giveaway
Airbnb says that it has more than 7 million listings in over 100,000 cities. In September, the company announced it planned to go public in 2020. It was valued last year at over $30 billion.
Airbnb generally requires no government ID and the verification process is limited, and the company is just one of several Silicon Valley giants accused of removing or editing negative reviews from unsafe listings.
In the face of safety scandals, Airbnb CEO Brian Chesky said that by December 15, 2020, every home and host will be "reviewed" - too little too late for those who will fall victim to scammers or already have.
Being aware of the signs of common scams, as well as your rights for compensation in the event of loss can provide some protection in the interim.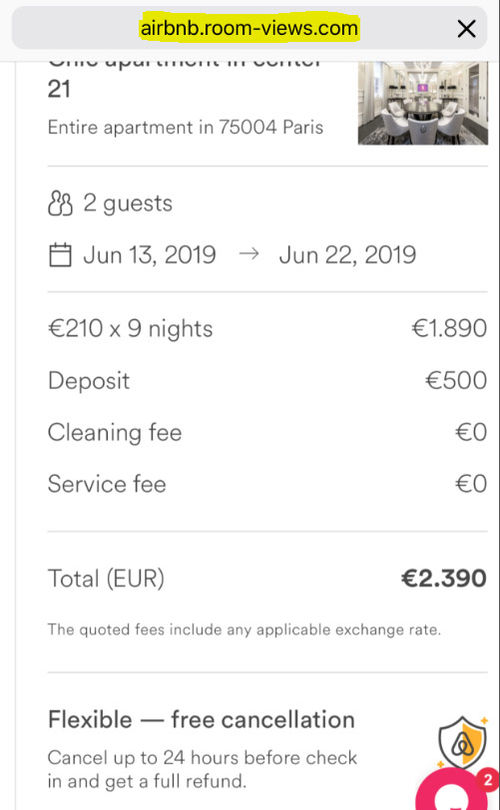 1. Never pay outside the Airbnb website
First, check the URL to make sure you're on the real Airbnb site - not a clone page.
Secondly, only pay inside the Airbnb platform. If someone requests you pay via bank transfer, cash or directly into their Paypal account, it's almost certainly a scam.
Report them to Airbnb immediately. You can also make a report to the ACCC's Scamwatch.
Scam victims generally have no provision to claim with their travel insurance company, as most insurers specifically exclude claims which arise from errors in booking arrangements, and Airbnb generally offers no assistance if any payments or correspondence occurs outside the platform.
2. Check the reviews and verified status
Airbnb says it verifies hosts, but this rarely requires a government-issued ID or extensive background check.
It's important to note that while bad reviews may indicate bad properties, good reviews don't necessarily mean it's a legitimate listing - as a UK couple discovered when their holiday rental turned out not to exist, even though it had four stars out of five.
Despite having to pay thousands to stay somewhere else, Airbnb originally refused to refund them until the company was contacted by the media.
3. Reverse image search
If the Airbnb property looks too good to be true, it may well be! If you're internet-savvy you can try reverse image searching to check their legitimacy.
If the images are appearing in multiple Airbnb listings, or come from unrelated real estate sales or from a stock image site, you've most likely found yourself a scam. Do someone else a favour and report the fake listing to Airbnb.
4. Be wary of switches
If your Airbnb host says that a property you've already booked is now unavailable, but they conveniently have a different property you can stay at, this should start to sound the warning bells.
Never accept any changes that aren't through the Airbnb platform, and read any changes carefully - make sure that the new property has the features you want, and is a price you are happy to pay.
If it's not, Airbnb says you should ask the host to cancel your reservation, so you can get a full refund.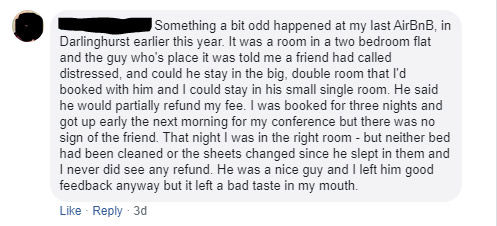 5. Check the cancellation policy before you cancel
If your host want to cancel your booking, and they cancel on their end of the Airbnb platform, you'll get a full refund.
But if a host requests that you cancel and you're outside the cancellation period, Airbnb and the scammers get to hold onto your money.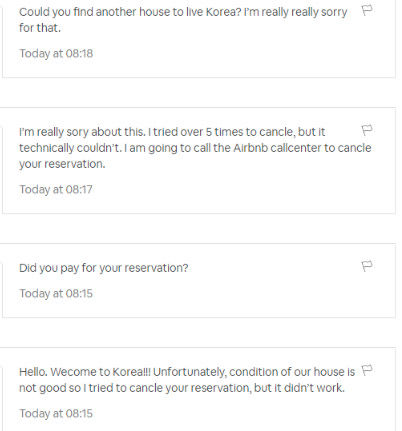 6. Get documentation for everything
The Airbnb website says that if something is not as expected, you should message your host on the Airbnb platform to see if they can resolve the issue.
If you haven't done this, you may not be eligible for a refund from Airbnb. If the host doesn't resolve the issue, you can contact Airbnb for help. They will direct you to "make sure you photograph or document your issue".
7. Get a chargeback
If you paid via credit card and Airbnb are giving you the run-around, request a chargeback for goods or services not as described. If you paid by Paypal, you can open a dispute in the Paypal Resolution Centre within 180 calendar days.
Airbnb says they are making changes which will improve safety for hosts and guests; until they do guests must be vigilant for scams and take the right steps when they do occur.
Get stories like this in our newsletters.