Industry dominance means revenue growth for digital disruptor
There can be little doubt that Audinate, the owner of the Dante protocol, a hardware and software combination that allows analogue audio and video streams to be digitised, dominates the industry.
Dante now has six times as many products using its protocol as Cobranet, its closest competitor.
That lead should widen as market share of new products expands and expands even faster.
The dominance of the protocol has been swift.
Five years ago, just 223 products shipped enabled with the Dante protocol; about 10 times that number are now being shipped and the business is attracting new customers, with 170 suppliers about to launch their first Dante enabled device.
Industry dominance is starting to translate into financial strength.
Revenue for the full year grew by 44% and, despite higher costs, earnings before interest, tax, depreciation and amortisation (EBITDA) grew by almost 400% to $2.8m.
That's still a small figure against a market capitalisation of $460m but the trajectory is clear; Audinate dominates its market and is set to gobble most of the industry profits on offer.
An estimated market size of $1bn is on offer when we combine audio, video and software revenue.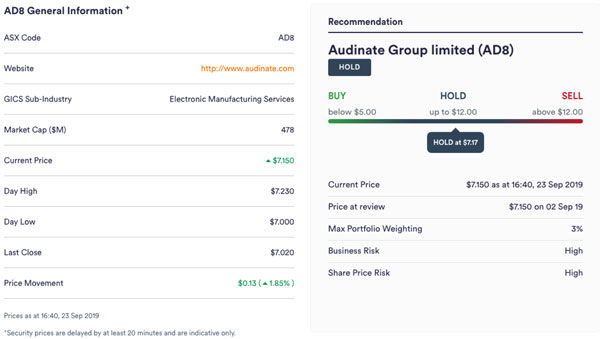 Assuming an 80% market share would deliver $800m in revenue and 50% EBITDA margins - this business should scale nicely - and could generate about $400m a year in operating profit.
Today's market capitalisation, while generous, could yet understate the ultimate size of the business.
If the opportunity is clear, then so are the risks. Dante came from nowhere to disrupt former leaders.
That could happen again.
With operational dominance now clear, the share price has grown to anticipate a lot of success - it has risen 160% since our first upgrade - but that dominance will take time to deliver.
It's hard to estimate whether we are getting an underpriced future monopolist or just another hot stock in a hot tech market.
A closer, more detailed look beckons. We'll aim to have that done over the next few weeks. HOLD.
Get stories like this in our newsletters.