Why you need to avoid overpaying for FAANG stocks
Tech stocks have dropped in the US this month after a long rally, led by the FAANG stocks. With the recent pullback, it is more important than ever that investors target attractively valued stocks and not pay too much for these fashionable companies.
While the FAANG giants, Facebook, Amazon, Apple, Netflix and Google owner, Alphabet have been powering the returns of the S&P 500 and NASDAQ, their tumble this month reveals that momentum could stop at any time. The astronomical values of these companies could continue to correct beyond September as investors realise their overvaluation. So, while these companies are important to have in your portfolio, that ownership should not come at any price.
Avoiding the risk of overpaying
Rapid gains in the value of FAANG stocks in recent years have propped up the US market. The chart below shows the rapid gains the FAANGs and Microsoft, compared to the US's S&P 500 without technology and the MSCI World ex USA index.
You can see the US equity market without these stocks is similar to global equity markets. In other words, the performance of the US equity markets has been driven by just a handful of stocks.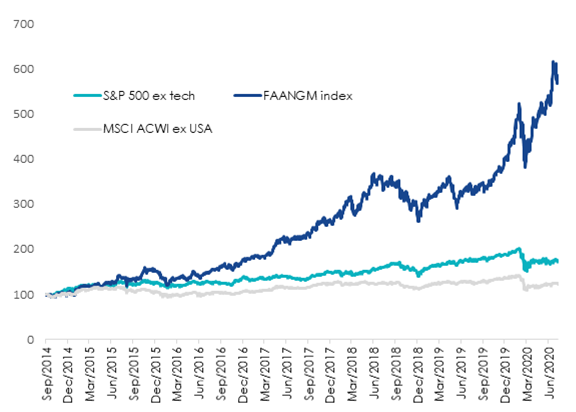 Investors that have had these stocks in their portfolio have been well served as their valuations went higher and higher. But how high can they go? The recent volatility of the NASDAQ, in particular, has highlighted the importance of considering company valuations.
Investors may be better off paying for more fairly values stocks, which can provide portfolios with more downside protection and greater growth over the longer term.
Wide moat protection
An option for investing in international shares is to focus on companies that are attractively valued and possess a 'wide' moat. Wide moats are important. They increase the intrinsic value of a company and Morningstar is able to demonstrate they predict good things to come.
The wide moat metaphor for investing was created by Warren Buffet when explaining his investment philosophy. Morningstar® has adopted this concept in its equity research and assigns Economic Moat ratings to companies. The companies with the strongest structural barriers are described as having 'Wide Moats'. Morningstar also assigns 'Narrow Moat' and 'No Moat' ratings.
If companies have a wide moat rating, Morningstar has very high confidence that excess returns will remain for 10 years, with excess returns more likely than not to remain for at least 20 years.
An example is American Express whose wide moat has been built up over many years by assembling a base of big-spending cardholders by offering exceptional rewards and services. These affluent customers are attractive to merchants, who willingly pay higher discount fees to American Express. In turn, high discount fees fund the company's rewards programs, making the company's offerings more appealing to cardholders and completing a virtuous circle. American Express' closed-loop network is its wide moat.
Of thousands of companies globally, Morningstar analysts have only assigned a wide moat rating to just over 200.
But Morningstar analysts don't stop here. Morningstar's equity analysts assign a fair value to each company in its coverage universe. Fair value is a per-share measure of what the business is worth. A three-stage discounted cash flow model is combined with a variety of supplementary fundamental methods such as sum-of-the-parts, multiples, and yields in order to triangulate a company's worth.
Morningstar only includes wide moat companies in its wide moat indexes that are the most attractively priced. The assumption is that the market will realise the intrinsic value of these companies and bring their market price more in line with Morningstar's view of fair value.
ETFs that track these indices offer investors a portfolio of wide moat companies in a single trade on ASX. The VanEck Vectors Morningstar World ex Australia Wide Moat ETF (ASX: GOAT) offers a practical way for investors to buy into a portfolio of quality international equities without overpaying.
Notably, the GOAT portfolio has a minimal exposure to FAANG stocks and Microsoft. While Microsoft, Facebook and Alphabet are held, the positions have been pared back in past rebalances as Morningstar identified more attractive wide moat opportunities elsewhere. It's possible, should valuations become more attractive, exposure to FAANG stocks and Microsoft may increase in the future.
Get stories like this in our newsletters.