Should you buy, hold or sell Smartgroup shares?
Established in 1999, Smartgroup Corporation (SIQ) provides employee benefits and workforce optimisation services. Key operating divisions of Smartgroup include outsourced administration, vehicle services, and software, distribution and group services (SDGS).
The outsourced administration segment includes salary packaging administration, leasing, and share plan administration. The vehicle services segment provides fleet management services.
The SDGS segment offers salary packaging software solutions, distribution of vehicle insurance, and information technology services.
The opportunity
Smartgroup is facing significant regulatory tailwind which makes it an attractive investment.
In November 2022, the government introduced FBT exemption legislation for electric vehicles (EVs). This created a dramatic improvement in the value proposition of EVs under a novated lease, essentially allowing the consumer to pay for the lease out of pre-tax income.
The listed players including Smartgroup, McMillan Shakeseare Ltd (MMS), SG Fleet Group Ltd (SGF) and FleetPartners Group Ltd (FPR) all reported significant uptick in EV quote activity in the March quarter (see chart below from SIQ).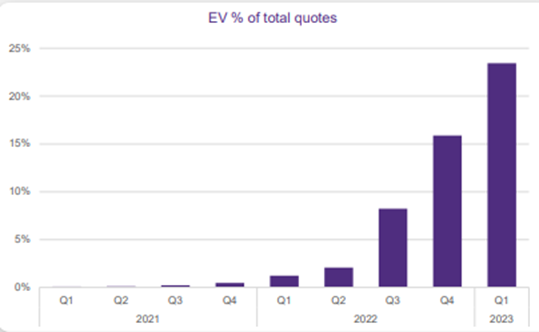 We haven't seen an update from Smartgroup for the June quarter, however FleetPartners who have a small, novated division, provided a June update recently, which highlighted an acceleration of EV demand through the June quarter.
FleetPartners (FPR) Q3 update (Novated division)
New Business Writing (NBW) for Novated was up 44% year-on-year (YoY) in the June quarter. This is the dollar value of new cars delivered during the quarter
Demand driven by EV legislation passed in December 2022, with 36% of NBW in the third quarter of 2023 and 45% of NBW in the month of June 2023 relating to battery electric vehicle (BEV)/plug-in hybrid electric vehicles (PHEV) (up from zero last year)
NBW is based off vehicle deliveries. Orders are running ahead of deliveries (supply constraints), meaning the backlog is growing
The average Novated lease value of an EV was $69,000 compared with $52,000 for internal combustion engine (ICE) vehicles (so part of the benefit to NBW is volume and part is value/yield)
Importantly FPR highlighted that the strong demand for EVs is incremental (in other words it is not cannibalising demand for traditional ICE vehicle leases). They have seen an increase YoY for ICE vehicles.
The chart below shows the June quarter compared to the prior six-month period. NBW in the June quarter is annualising at $260 million vs FY22 $177 million (up 47% YoY). Management described the monthly profile as an exponential curve, as the exit rate is above that growth rate.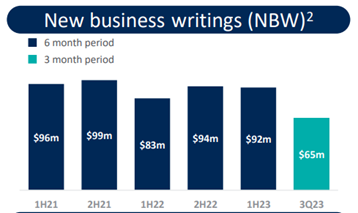 Recommendation
We believe Smartgroup is the simplest and purest play to gain leverage in this thematic, and analysts forecasts have yet to reflect this exponential growth as most of the businesses have yet to report officially.
With the current trajectory of the EV demand in novated leasing, we expect a significant earnings upgrade for Smartgroup by December this year (calendar year-end), making it one of the fastest growth businesses in small cap land and one of the most profitable.
Smartgroup is currently trading at 16x FY24 earnings. Buy.
Get stories like this in our newsletters.