Should you buy, hold or sell shares in Endeavour Group?
As a new entrant to the ASX, Endeavour Group offer investors the ability to own a share in the profits of one of Australia's leading drinks retailers and hospitality businesses.
Boasting leading brands such as Dan Murphy's and BWS, the group was previously a subsidiary of Woolworths until it was spun out as a separate company in June 2021.
Endeavour Group comprises two businesses - a retail drinks business and a hotels business, both focused predominantly on the Australian consumer.
Retail drinks
The retail drinks business (trading as Endeavour Drinks when owned by Woolworths) comprises multiple retail brands including Dan Murphy's and BWS, two of Australia's leading drinks businesses which together command a market share of approximately 40%.
In addition, speciality drinks providers Langton's, Cellarmasters, Shorty's Liquor and Jimmy Brings make up the portfolio. Supporting these sales channels is Endeavour's private label, Pinnacle Drinks, which houses the products and services capability as wineries, vineyards and wine brands. Examples include Krondorf, Chapel Hill and Dorrien Estate.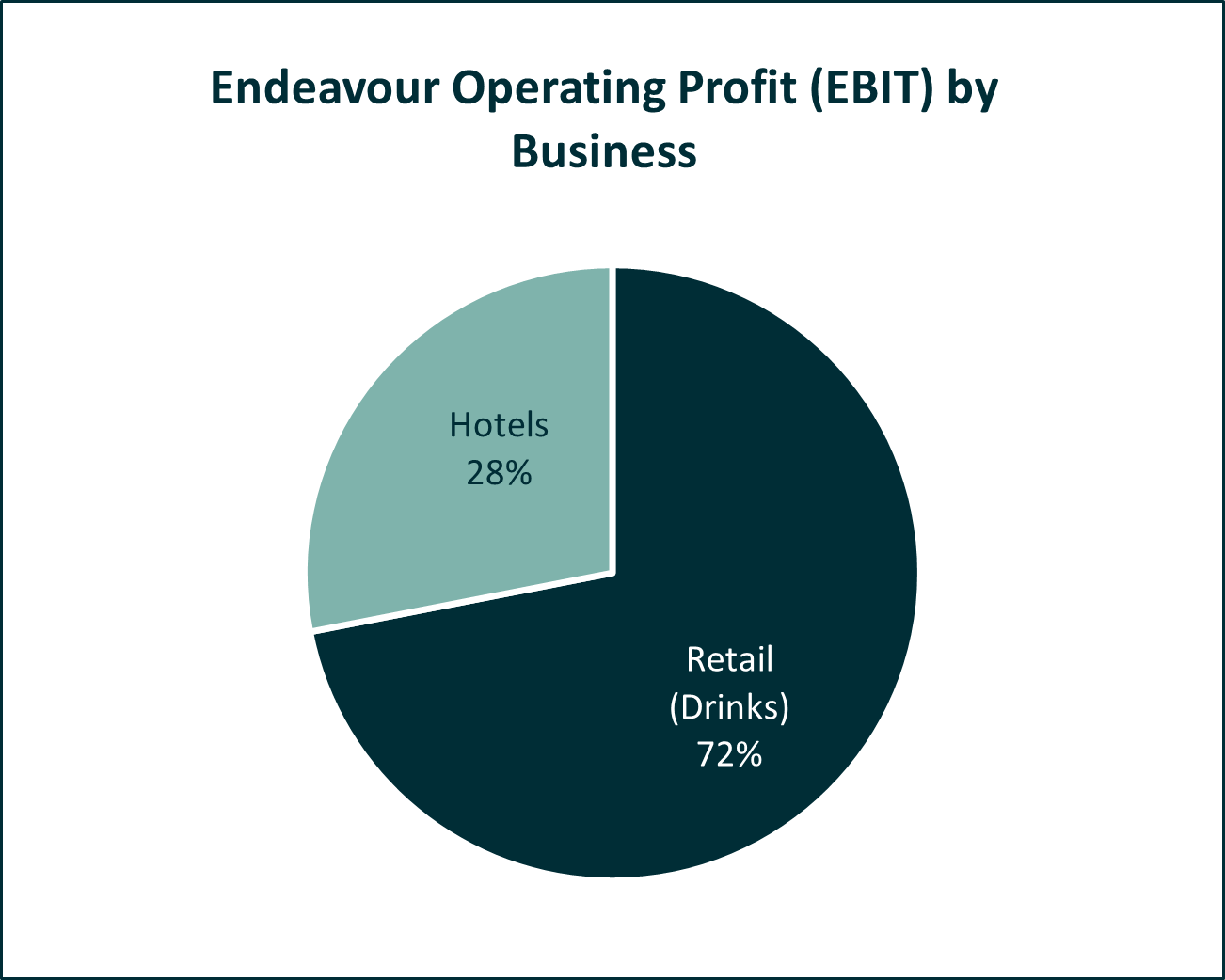 Endeavour's hotel network is the largest in Australia, with 344 hotels spread across Australia. Almost half are in Queensland offering gaming (pokies, sports betting and keno), food and drinks sales and accommodation.
Strategy
Endeavour, despite its leading market share status in a relatively mature market, has several growth paths available to it.
The lockdowns during the pandemic highlighted a natural balance in Endeavour's business mix as hotel revenues decreased sharply due to capacity restrictions but were offset by the increased sales in the retail division. Alcohol retailer turnover increased 29% from 2019 to 2021, according to ABS figures. As society returns to normal, other trends are emerging and accelerating, including online sales, increased demand for low and non-alcoholic drinks and premium products. Customers are also looking for customised experiences and convenience
The company intends to meet these trends via the use of data and technology, leveraging its brand following (Dan Murphy's has one of the largest membership programs in Australia) and supported by its branded drinks range available through the Pinnacle business.
There are also growth opportunities in the hotels business via investments in renovations, gaming room renewals and retail and hotel integrated offerings. Endeavour holds a leading market share in the hotel industry, but this is still very small as a percentage of the whole industry which is highly fragmented and contains many small independent businesses. Opportunities to consolidate the industry and grow via acquisition are very likely to present themselves over time.
Returns
Having been recently spun out of Woolworths in June 2021, there is only a short earnings record for Endeavour as a stand-alone company. As a segment within Woolworths, the retail drinks business enjoyed steady store and sales growth over the past 5 years.
Endeavour currently intends to pay between 70-75% of its profits as dividends to shareholders, resulting in a 2.7% net dividend yield (or 3.9% including franking credits). This provides an attractive balance between dividends for investors and to the ability to reinvest profits to take advantage of the growth avenues available to it.
ESG considerations
As an employer of over 195,000 people and a major supplier of both alcohol and gaming services to the Australian public, environmental, social and governance issues are key considerations for a company such as Endeavour. Some investors choose to avoid alcohol and gaming stocks altogether. For those that are happy to invest, we see that Endeavour has set clear policies in key areas of responsibility, community, people and planet.
Recommendation - BUY
Endeavour, now trading as a stand-alone entity, should benefit from a capital allocation program and strategy that is based solely on the needs of its retail and hotels business, without the distraction of being part of a wider supermarket and retail business under Woolworths. Companies spun out from larger corporates often benefit from a renewed focus and a refreshed management team, as seen by the success of Orora, Treasury Wine and Dulux to name a few.
Under this renewed focus, the group's market-leading position and strong brand awareness provide solid foundations for both underlying businesses to capitalise on the growth opportunities that are available to it.
Endeavour rates strongly on our Quality and Growth metrics. This is due to the company's strong cashflow generation and the way in which it has managed incremental improvement in its profit margins. This provides valuable defensive characteristics for the company in an increasingly volatile equity market. Earnings momentum remains positive in the near term but investors should remain vigilant to cost increases for the business as well as a slow down in revenue should economic conditions, and thus consumer spending, soften.
Get stories like this in our newsletters.