Falling savings rates have cost Aussie families $1.6 billion
Savings and term deposit account holders have missed out on about $1.6 billion dollars over the last half year as banks slowly lower rates.
The research by comparison site Mozo.com.au observed 257 rate cuts to bank accounts, 635 rate cuts to savings accounts, and 844 rate cuts to term deposits.
"As mortgage holders enjoy record low-interest rates, it's no secret that the banks need to find other ways to remain profitable - and taking from Australian savings accounts is an easy way to ensure the books stay nice and plump. By hacking away at the interest rate over the last six months, Australian savers lost out on approximately $1.6 billion ," says Mozo director Kirsty Lamont.
"While you'd be hard-pressed to find a savings account or term deposit rate which hasn't been cut in the past six months, savers may be surprised to learn that there is still a sizable difference between your average and most competitive ongoing interest rate.
"At present, the average rate is 0.65% while the most competitive rate is 1.75% with Australian Unity or 3% for under 30-year-olds with Westpac."
The average ongoing savings account rate with a big four bank has fallen over the last six months from 0.57% to 0.32% currently. On a balance of $10,000 over three years, that equates to a loss of $25 in interest over 12 months.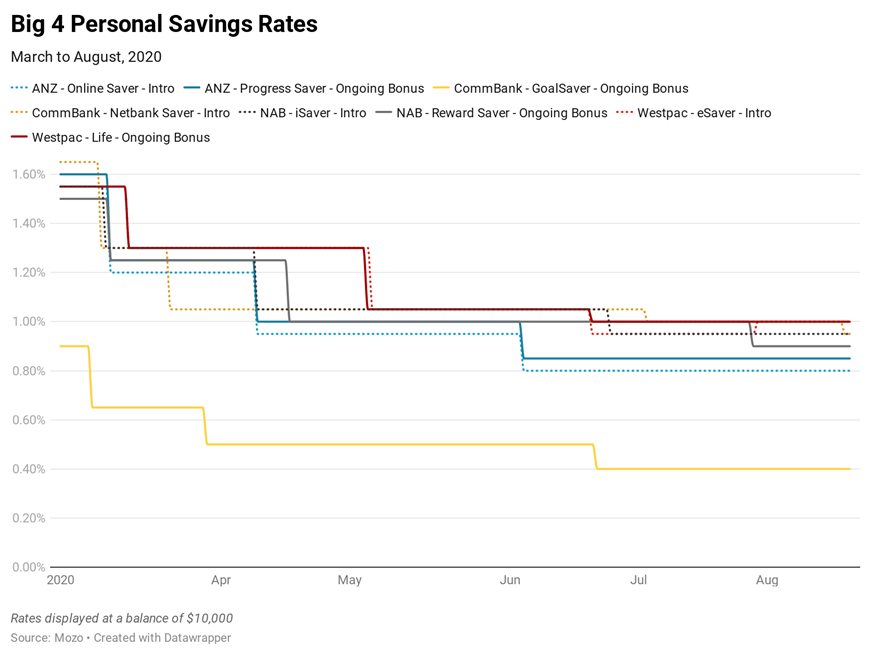 "With COVID-19 presenting a lot of uncertainty about the future, many Australians are squirreling money away. In fact, as a nation, we just hit the one trillion dollar mark in savings and everyday accounts," says Lamont.
"As a nation, we're prioritising saving, so be sure to get the most competitive offerings on the market. It will positively impact your savings."
"The best ongoing rates are currently 1.75% with Australian Unity or 3.00% for under 30-year-olds with Westpac. You could also nab a competitive intro rate of 2.20% with Heritage Bank. As far as term deposits, Judo Bank is offering a 1.30% rate which is the best 12-month term on the market."