How to freshen up your home for less than $150
The soaring cost of living continues to see families trimming their budget. But it's important through these difficult times to ensure that cutting corners now does not cost you significantly more down the track, or is detrimental to retaining the value in your property.
Improvement projects are essential and go hand in hand with home ownership. And vital maintenance should not be overlooked despite the financial challenges. It is important to remember that home improvement plays a pivotal role in ensuring your living experience is enjoyable.
Property prices remain high, and this alone highlights why improvement projects should be high on the family agenda, as they significantly increase the value of your home and your equity in it.
You never know when your plans may change, and if a home is in good order preparing it for sale (or for a bank valuation) will not be a major expense involving a long list of onerous tasks.
Not only do improvement projects increase the value of your home, they also enhance its liveability. Maintenance and minor upgrades create a more comfortable and functional living space.
Significant projects like an upgrade to a kitchen or bathroom are not necessary during a cost-of-living crisis - they can wait.
Let's explore some areas where cost-effective projects can improve your property's value while not hurting the budget.
Paint the garage door
Transforming your garage door with a feature paint is a fun and inexpensive project.
Unlike other painting projects (which you tend to regret when you start), it's a small area that you can tackle yourself within a tight budget - while having some fun in the process.
Recover cushions
Outdoor cushions fade and become lacklustre, losing their brightness and effectiveness. They also stain over time because of entertaining.
Recovering them (both inside and outside) is a cost-effective way of transforming any room. Upgrading the covers will get the most out of your cushions while ensuring your space remains stylish.
Cost: Indoor cushion covers cost from $8 each and outdoor versions from $5 each.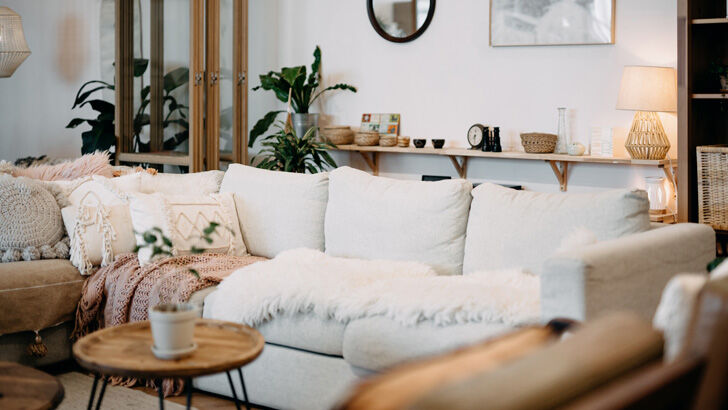 Regrout tiles
Regardless of how fastidious a homeowner you are, grout stain is inevitable and dates your tiles and bathroom, leaving the area looking shabby.
Regrouting is a fantastic option that costs from $25 to $40 a square metre. While regrouting all tiled areas may be out of reach, tackling one area at a time is achievable and retains the value in each room.
Cost: A typical small 3m by 2m bathroom can be regrouted for around $150.
Upgrade lighting
Changing your lighting to cost-effective and energy-efficient LED sources will return the benefits in your power bill as well as being a fantastic maintenance project.
LED lighting consumes up to 80% less energy than other options. Their longer life span means you are replacing bulbs less frequently, reducing your waste, protecting the environment - and reducing your costs.
Cost: Conventional bulbs cost $6 each and $23 a year to run. LED bulbs cost $10-$15 each and $5 a year to run.
Improve security
A basic security installation can be achieved with cost-effective purchases. With a view to keeping under the $150 spend, this is achievable as a DIY project.
While high-tech security and alarm systems are a great investment, they also come with a high price tag. A security camera from your local hardware store is cheaper and easy to install, providing a sense of safety and a deterrent to potential thieves.
Cost: A home security wi-fi camera costs from $59.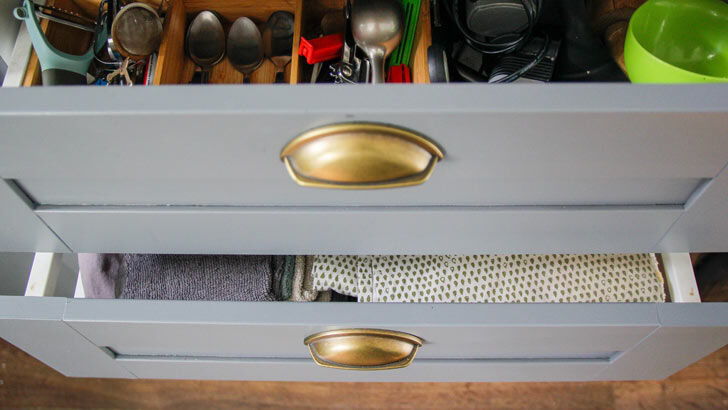 Refresh kitchen/bathroom
Upgrading drawer and cupboard door handles in the kitchen and bathroom is an inexpensive project that will provide a surprising new look in both areas. The sink mixer is one of the most frequently used items in the house, so upgrading to a fresh, stylish version will add a splash of new life to your kitchen.
Cost: Drawer handles cost from $6 each and basic kitchen mixers start at $53.
Switch plate covers
Possibly one of the most neglected interior areas are your switch plate covers. What do yours look like? Plain, white and boring?
Unless the power point has a fault or becomes damaged, we tend to forget about them, but they are certainly a cost-effective project that can make a big impact.
High gloss or metal plates are a great choice for most rooms. The contrast of a shining switch plate cover against a painted matt wall can really brighten a room. Metallic switch plate covers come in a variety of options, so you can find a finish that is perfect for your room.
Sourcing an exact match to your wall colour is difficult, but once you find the correct match your room will have a seamless look that oozes elegance.
If you are looking to try something new with a load of impact, try dark grey or even black switch plates. They can draw interest to a room that is light, or even try them in a dark room to blend with the walls.
Cost: Switch plate covers range from 84 cents to $69 each.
Refresh kids/guest room
As children grow, the space they love to call their own needs to evolve as their tastes change and they mature.
Whether you are facilitating tiny tots, primary school kids or teens, over time there will be a need to transform the space.
Littlies are all about the floor area, and creating a cosy reading nook can be easily achieved with a circular rug and scatter cushions. Likewise, comfy bean bags or a strategically placed ottoman for teens are a great addition.
Creating a unique area can be surprisingly simple, a space where they can enjoy their own company.
A feature wall with fun wallpaper is also a simple way to inject colour and a new tone to your child's room without too much effort. This is easily switched out over the years as they grow and
tastes change.
Rug $30-$98
Cushions $16-$30
Bean bag $28-$79
Ottoman $50-$120.
Wallpaper from $80.
Update the living room
There are loads of mini projects you can find in your living room including:
• Sheers: Upgrading your sheers to a contrast sheer or simply adding them as a new addition to your blockout curtains, or even over the top of blinds, is a great project that also brings instant luxury to the room.
• Lamp shades: Changing your lamp shades is such a quick and easy way to transform the look and feel of a space and a great DIY project.
• Art: Painting your own DIY canvas art is an affordable living room decor upgrade. Purchasing blank canvases and going wild with your favourite hues is not only a lift for the room, but a fun project.
It's important to remember that regular maintenance extends the life (and value) of your home, constantly improving its liveability. Addressing small home improvement projects in an orderly manner ensures that problems are identified before they become a costly nightmare.
Often the smallest projects can have the biggest impact, so while your budget may currently be stretched, you may just surprise yourself with what you can achieve and the great impact mini affordable improvement projects will have on your home.
Get stories like this in our newsletters.