Half of new Aussie investors are women: ASX study
A new ASX report shows women and younger Australians have lifted the number of adults who own investments to a record high of 10.2 million.
The latest Investor Study from the Australian Securities Exchange (ASX) sheds light on how and where Australians invest.
After a surge of activity through the pandemic, a record 10.2 million Australians now own investments outside their home and super, an increase of 13% or 1.2 million investors since 2020.
What are Australians investing in?
Aussie shares are the nation's favourite investment, held by almost three out of five (58%) investors.
Despite property often dominating headlines, only one in three investors (35%) own a rental property, down from 39% in 2020.
While 28% of investors hold term deposits, making this our third most popular choice of investment, the big growth area is exchange traded funds (ETFs).
One in five investors are embracing ETFs, up from 15% in 2020.
The ASX says the continued popularity of ETFs is "no surprise" given that ETFs provide exposure to a wide range of companies, regions, asset classes and strategies, making it easier to diversify.
This year is the first time the ASX has asked about cryptocurrency, which is held by 15% of investors.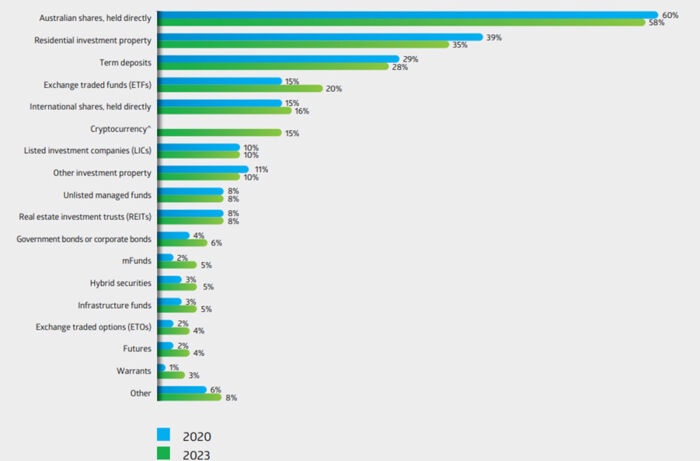 How much do we have invested?
Despite rising living costs and a relentless string of rate hikes, plenty of investors have been tucking spare cash into their portfolios.
Among the 7.7 million Australians with ASX-listed assets, the median portfolio is worth $170,000 - a whopping jump of $40,000 since 2020.
Part of this growth may reflect the post-pandemic bull run we've seen on sharemarkets. Local share values have jumped 12.1% in the last 12 months alone.
The title of 'seriously impressive portfolios' goes to long term investors.
Those who've been investing in the ASX for 10 years or more have a median portfolio of $850,000, almost double that of those who've been in the market for 5-10 years ($430,000).
Who are the game changers?
The ASX report says two groups are changing the face of Australian investing - female investors and so-called 'next generation' investors aged 18-24 years.
Of the net 1.2 million investors that have entered the market since 2020, half are women, and there are now more Australian female investors than ever before.
With a median portfolio of $95,990, where do women invest? The firm favourites are:
54% - Aussie shares
35% - residential investment properties, and
30% term deposits.
When asked about the biggest challenges they face as investors, female investors pointed to issues around trust.
Close to two out of five women said they find it hard to know which information sources they can trust, and 28% are unsure about which product providers would act in their best interests.
Zoomers make up one in 10 investors
The Zoomers are also flexing their financial muscle with 18-24-year-olds accounting for almost 10% of investors.
Even more impressive, the Zoomers have a median portfolio of $45,500.
Young Australians are happy to take more risks with their portfolio. The top three investments for the 18-24s are:
43% - Australian shares
31% - cryptocurrencies, and
25% - international shares.
With one in two Zoomer investors selecting assets based on responsible investing principles, it's no surprise that for this group, one of the key challenges, cited by over one in five, is understanding the ESG status of a company.
That said, the Zoomers are only just getting started.
Andrew Campion, General Manager, Investment Products and Strategy at the ASX, says, "We will continue to see younger investors enter the market for the first time.
"This cohort will make up almost 30% of the 1.33 million non-investors that intend to invest in the next 12 months."
8 million Australians have never invested
If you haven't quite got around to investing, you're not alone.
The ASX says 8 million Australians have never invested at all, and the major roadblock is a perceived lack of funds.
Close to half think they don't have enough money to invest, with 38% of non-investors believing they need at least $2000 to kickstart a portfolio.
That's about four times more than it really takes to become an investor.
The minimum marketable parcel on the ASX is $500 - add a little extra for brokerage.
Or, with micro-investing platforms like Raiz, it takes as little as $5 to become an investor.
Get stories like this in our newsletters.