Harvey Norman under fire for interest-free promotions
October is Cyber Security Awareness month, ASIC takes legal action against Harvey Norman and Latitude Finance, and the hunt is on for fake green claims. Here are five things you may have missed this week.
ASIC sues Harvey Norman and Latitude Finance Australia
Money watchdog ASIC has launched legal action against retailer Harvey Norman and Latitude Finance Australia over the promotion of interest-free payment methods.
ASIC alleges that from January 2020 to August 2021, advertisements promoting 'no deposit, interest-free' payment methods over a specified term for purchases at Harvey Norman were misleading.
The ads allegedly failed to mention that consumers could only use the interest-free option if they applied for - and used - a Latitude GO Mastercard.
According to ASIC, consumers who signed up for the credit card and made a purchase using the 60 months interest-free method, could have paid around $537 in card fees on top of their purchase amount.
ASIC Deputy Chair Sarah Court, says, "These credit cards, ASIC alleges, attracted substantial fees over the course of the 60-month payment term, and exposed consumers to the risks of incurring further debts and charges, as well as potentially affecting their credit rating."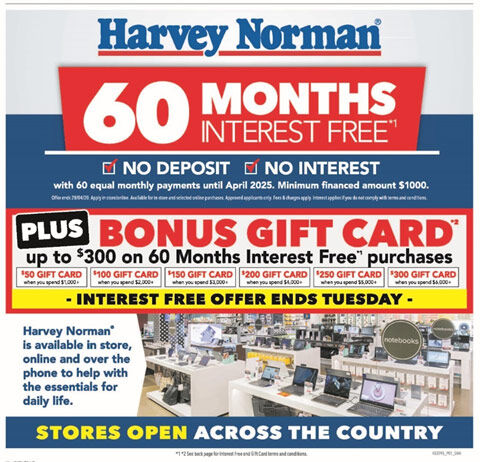 October is Cyber Security Awareness Month
The Australian Cyber Security Centre (ACSC) has declared October to be Cyber Security Awareness Month.
It comes hot on the heels of the Optus data breach, which exposed the personal data of 10 million Australians.
While the Optus breach is on a massive scale, plenty of Australians have been hacked in the past.
The Institute of Criminology says nearly 6.7 million adults, one in three of us, have been victims of cyber-crime.
It's timely then, that the theme of Cyber Security Awareness Month 2022 is 'Have you been hacked?'.
To help consumers know if their personal details have been compromised, the ACSC has developed an online 'Have you been hacked' tool.
It addresses a range of scenarios, identifies warning signs of a possible hack and offers tips on what to do if cyber-crooks have raided your data. Head to cyber.gov.au for more details.
ACCC closes in on greenwashing
The Australian Competition and Consumer Commission (ACCC) is targeting 'greenwashing' - the practice of making a company or product seem more eco-friendly than it really is.
The ACCC will attempt to identify dodgy eco-friendly marketing claims with a sweep of at least 200 company websites spanning a variety of sectors including energy, cars, household products, cosmetics and clothing.
Delia Rickard, ACCC deputy chair, says, "As consumers become increasingly interested in purchasing sustainable products, there are growing concerns that some businesses are falsely promoting their environmental or green credentials."
The ACCC is also on the hunt for fake reviews posted to business' websites, Facebook pages and third-party review platforms.
Rickard notes that consumers often rely on reviews and testimonials but says businesses can be impacted by negative reviews, which can be posted by competitors or third-party professional reviewers acting on behalf of a business.
Westpac extends LMI waiver to registered nurses and midwives
Westpac Group has just announced a waiver of lenders mortgage insurance (LMI) on home loans to registered nurses and midwives, who have a minimum 10% home-buying deposit.
To be eligible, nurses and midwives need to earn over $90,000 (before tax) annually.
However, data from SEEK shows the average salary for registered nurses and midwives ranges from $80,000 to $85,000 - below Westpac's $90,000 benchmark to avoid LMI.
Nonetheless, Westpac Consumer and Business Banking Chief Executive Chris de Bruin, says "Nurses and midwives provide an incredible service to our communities, so we are delighted to help them buy a home sooner by waiving thousands of dollars in lenders mortgage insurance."
Westpac already has an LMI waiver in place for a broad range of health professions including dentists, optometrists, vets and medical specialists.
High returns bagged at auction
A Sotheby's auction has put new meaning to the expression 'life is short, buy the handbag'.
A Hermes 'Kelly' handbag (so-named because movie star Grace Kelly owned one) sold for €352,800 ($A533,000) under the hammer in Paris - three times the expected price.
It's a sign of how collectibles are being seen as a store of value amid economic uncertainty and sharemarket volatility.
The Frank Knight Luxury Index shows a 78% rise in the value of designer handbags over the past 10 years.
If you're thinking of slinging some Hermes over your shoulder, the brand's website has bags priced from just under $A10,000.
The biggest gains on luxury collectibles have been with whiskey, which has soared 428% in value over the past decade.
An amber drop from the local bottlo will not make the grade. The Irish Post reports a bottle of Macallan 1926 recently commanded a whopping $US2.3million at auction ($A3.3 million), a price that works out to about $143,000 per nip.