Cost of living to 'get tougher before it gets easier' as inflation hits 6.1%
Almost every household around the country will have felt it, but now it's been confirmed: the cost of many everyday goods and services has been rising, and fast.
The Consumer Price Index (CPI) jumped by 1.8% in the June quarter according to the latest figures released by the Australian Bureau of Statistics (ABS) on July 27, meaning the annual rate of growth is now sitting at 6.1% - the highest it's been in decades.
"The annual rise in the CPI is the largest since the introduction of the goods and services tax (GST)," says the head of price statistics at the ABS, Michelle Marquardt.
"The quarterly increase of 1.8% was the second highest since the introduction of the GST, following on from a 2.1% increase last quarter."
Home building and fuel record highest price rises
The ABS revealed that many of the biggest contributors to inflation during the June quarter were goods and services that have already been in the spotlight like new dwellings, automotive fuel and food.
Construction and labour costs for new dwellings rose by 5.6% over the last quarter and 20.3% over the past year thanks, Marquardt says, to continued high demand on the one hand, and supply problems on the other.
"Shortages of building supplies and labour, high freight costs and ongoing high levels of construction activity continued to contribute to price rises for newly built dwellings. Fewer grant payments made this quarter from the Federal Government's HomeBuilder program and similar state-based housing construction programs also contributed to the rise."
Despite a drop in April, fuel prices also rose by 4.2% over the quarter meaning they're now 32.1% higher than they were last year. And while the petrol prices motorists are currently paying at the pump might not be as high as they were in May or June, they're likely to be bumped up again if the temporary fuel excise cut comes to an end in September.
And as anyone who has been to the supermarket recently will appreciate, grocery prices have also increased. The main contributors on the food front were vegetables (up 7.3%) and fruit (up 3.7%) which were driven higher over the last quarter by supply chain issues, higher transport costs and the impacts of flooding in New South Wales and Queensland earlier in the year.
Households already struggling, but worse yet to come
Although the latest inflation figures are among the highest in years, Treasurer Jim Chalmers has indicated that the inflation situation "will get tougher, before it gets easier" and acknowledged that many households are already doing it tough.
"There's a lot of commentary about people having buffers in their home loans, for example, which wrongly assumes, in my view, that interest rate rises and inflation isn't hurting people," says Chalmers.
"It already is. For every dollar that people find to service their mortgages, every extra dollar, it means a dollar that can't go to funding the skyrocketing costs of other essentials, so I think we need to take a broad view about the impact of inflation on the economy but also on the most vulnerable Australians."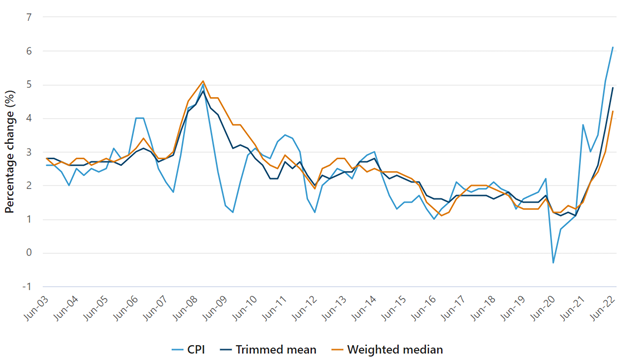 Edwina McDonald, the acting CEO of the Australian Council of Social Services (ACOSS), told the ABC that there needs to be greater income support available for people who are already making huge sacrifices to cope with rising living costs.
"We know that for people on low incomes, for the two or so million people surviving on less than $70 and many on the $46 a day of the job seeker payment, they have been crushed by the increases.
"They are skipping meals and they have stopped using their car already. They are accessing food relief services at high numbers, much higher than pre-pandemic and they are going to feel the increasing costs."
What does this mean for interest rates?
With inflation figures now out, attention will turn to the Reserve Bank which is due to dish out its latest monetary policy decision on August 2.
Earlier this month the RBA lifted the cash rate by 50 basis points to 1.35% and today's inflation figures mean that a fourth consecutive interest rate hike is almost a certainty as the central bank looks to bring inflation back down its target band of 2-3% by dampening consumer spending.
Just how high that rate rise will be remains to be seen though. Before today's inflation data ANZ, Commonwealth Bank and Westpac all suggested that another 50 basis point increase would be the most likely outcome in August, though other commentators anticipate that the RBA may go even higher.
Whatever the increase, the impact for mortgage holders is likely to be substantial as it will inevitably lead to another jump in repayments as lenders pass on the rate rise.
For example, the table below shows the impact a 50 basis point and 65 basis point rate increase would have on monthly repayments based on an existing variable rate of 3.50% on a loan being paid off over 20 years.
| | | |
| --- | --- | --- |
| Loan size | Monthly change (50bp) | Monthly change (65bp) |
| $200,000 | +$52 | +$68 |
| $400,000 | +$104 | +$136 |
| $600,000 | +$156 | +$203 |
| $800,000 | +$208 | +$271 |
| $1,000,000 | +$260 | +$339 |
Beyond August, the current expectation is that there will be more rates rises on the horizon given that the Reserve Bank has stated that it doesn't expect inflation to peak until the end of the year.
As for further inflation data though, the ABS won't release its next CPI figures until September 28.
Get stories like this in our newsletters.