Jamie Whincup on racing, toys and planning for life after Supercars
Seven-time Supercars champion Jamie Whincup is preparing for his 19th Bathurst 1000, which will be held a week later than usual this year due to COVID-19.
Like everyone in the Supercars paddock, the Red Bull Holden Racing Team star's year has been tumultuous, with some championship rounds cancelled, others postponed, and some races held as an online e-Series.
The racing is now back on track but the season has been cut short and will finish with Bathurst. Whincup has also faced challenges as a business owner with his Queensland car wash cafe.
What was your first job?
Stocktaking at Mitre 10 - my brother-in-law was the manager - in the north of Melbourne. I was paid $4.50 an hour, a long grind but it taught me some discipline.
What's the best money advice you've received?
Make sure you always have a little in reserve for the future. Don't run yourself too thin, always make sure there's a little bit extra for what could happen in the future.
What's the best investment decision you've ever made?
To purchase a block of land in Hope Island and start my first carwash in 2016. I recognised a spare block and went in pretty deep, bit off a bit more than I could chew, and got the land rezoned from residential to commercial and started two new businesses at once, a carwash and a cafe.
I obviously love cars and to be honest I saw, at the time, a lot of other athletes were having a tough time post retirement and I wanted to make sure I had a plan and an interest, and so I decided to build a car wash business and it's been fantastic. I'm currently looking at my second site and after looking at how they wash cars in the US and Europe, I've come up with a concept which is a step up from Hope Island and opening in Brisbane soon. If that works seamlessly I'll update Hope Island.
What's the worst investment decision you've made?
A friend notified me of a get rich quick scheme and it was basically a fake system that promised a big return, and it did return well in the initial bit but I did end up with a big capital loss in the end. If somethings too good to be true or get rich quick I stay well away with it. It's one of the most valuable lessons I've learned in finance and I'm glad I made that error early in my investment career.
What is your favourite thing to splurge on?
It's motorised toys. I have every kind of toy - jet ski, motorbike, boat, cars. Nothing crazy expensive but I have quite a big selection which you can never have enough of.
If you had $10,000 where would you invest it?
Probably a lithium mine. I've just had the opportunity to drive some electric vehicles and I think they're fantastic. I can see the electric car market take off. One thing is the green aspect and they're really good to drive, quiet and 100% of power from first metre from the traffic lights. They make a lot of sense so I can see the car market will definitely go in that direction and they all need batteries.
What would you do if you only had $50 left in the bank?
I'd stock up on good food. I believe in all health and fitness and everything in life it all comes down to nutrition and what you put in your mouth. You can't expect your brain or your body to operate in the right way if you don't give it the right fuel.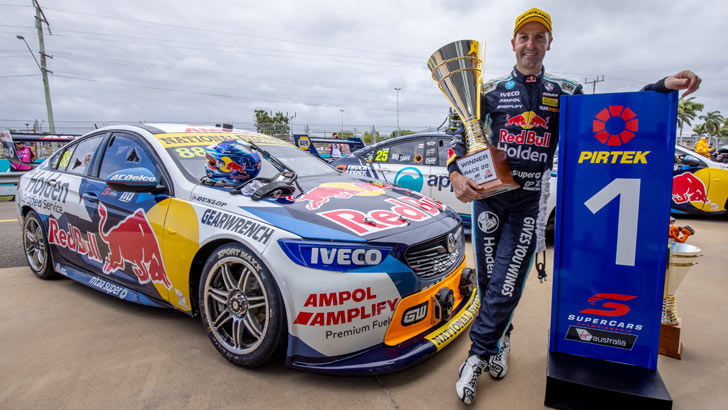 Do you intend to leave an inheritance?
I do. I don't think there's anything wrong with leaving your children (which I don't have at the moment) or nieces and nephews with a little bit to start their life to make sure they're comfortable.
What have been your greatest challenges of the COVID-19 era for your business?
The greatest challenge has been for me has been able to maintain a staffing roster during the JobKeeper period. JobKeeper has been fantastic for small business but only to a point. Some kids have realised they get JobKeeper whether they come to work or not. For some it's promoted laziness which is completely against what I'm all about. I don't have any qualifications, I left school in Year 11, my life has been a degree in common sense and there's no substitute for hard work - getting in there and getting it done.
What have been your greatest challenges in racing?
Sports a young man's game at the moment and trying to keep fresh and think of new ways - you can't think what worked five years ago will still work. You have to keep adapting and moving forward. It's not the strongest that survives or the smartest it's the person who has the most ability to adapt to change and sport has helped me completely understand that.
Finish this sentence: money makes...
... life a little easier at times.
Get stories like this in our newsletters.