Making It Work: how a quiet pub sparked the idea for Drinks Trolley
Australians have had to adapt after their livelihoods took a hit from government restrictions introduced to curb the spread of coronavirus. In this series called Making It Work, we look at how individuals and businesses have pivoted to stay afloat during the crisis.
Drinks Trolley
Mairead Jarrett has been in the liquor industry for 25 years, primarily marketing wine and spirits with a focus on creating innovation and new brands.
When the coronavirus hit her industry, she started Drinks Trolley in response to the shutdown of restaurants and bars. With pubs, bars and bottle shops closing, she saw that a whole distribution channel had been lost for wine and there was a lot of excess stock in the closed venues.
Jarrett joined forces with Jono Jenkins, who saw the bottom fall out of his wine importing business when his clients were shut down.
Drinks Trolley buys stock from closed venues and delivers it to thirsty Aussies in their own homes.
Under pressure
Jarrett's business was affected immediately.
"Our business is in hospitality, and once the rules came out to close pubs and bars the impact was immediate and enormous," she says.
"I had no paid job. Jono had his business but that was hit in two ways - his venues closed and he lost his clients, and he had stock (unpaid for) in venues which he needs to get out."
Learning to adapt
As venues closed and were unable to pay merchants, they asked suppliers to come collect unsold stock. But, with no way of being sold, that stock would be returned to a warehouse.
Until now.
"The wineries say we need you to pay the bills but the distributors say we have no-one to sell it," Jarrett says.
"We come in and pay for the stock and we'll push it through to people at home - at great prices."
Jarrett and Jenkins came up with the business idea while sitting together in a formerly busy Sydney establishment.
"It had only five people in it - where it would normally have had 200 and we thought, what if we could pull this stock out of fridges and shelves and get it into consumers' homes - it would help the venue, keep us in touch with people, and make sure there's something for us to come back to when everything is back up and running," she says.
"Two weeks later here we are."
The new business is currently being run out of licensed but currently closed pub owned by a friend of Jarrett and Jenkins which keeps business overheads low.
"Our aim is to shift stock and employ people where we can and utilise the skills that have been put to rest in shutdown from all streams in and related to hospitality," Jarrett says.
Staying afloat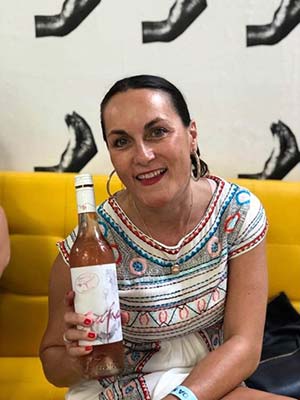 Jarrett is a divorced, single mother with bills.
"I live with another mum, in a shared house together (not in a relationship) and between us we have three kids and two dogs so I'm liable for all my bills," she says.
"Before COVID-19 hit I was job-hunting and had three jobs lined up - all disappeared as another effect of the shutdown in my industry.
"I'm now investing in this business - using my savings to create something I believe in."
The future
Jarrett and Jenkins believe Drinks Trolley will be able to survive and thrive beyond COVID-19.
"We now have a robust channel of selling great wines that are normally not seen outside of restaurants," Jarrett says.
"In the future this business could expand because there's two pieces to the puzzle.
"A winery doesn't have the manpower or resources to sell their wine; they pay a distributor to get wine to bottle shops and restaurants and then both the winery and distributor needs a margin as does the restaurant and bottle shop and that has been squeezed for some time.
"So we see two things out of this, a shift in the way wine is wholesaled - which is already happening in Asia - and we also see that Drinks Trolley will continue to be an amazing option for people to drink great wine at incredible prices.
"Things won't be going back to normal in a hurry."
While most clients have been through word of mouth in the greater Sydney region, Drinks Trolley can deliver anywhere in Australia except the Northern Territory.
Get stories like this in our newsletters.