How to travel overseas without COVID breaking your budget
Overseas travel is back on the agenda! But things are a little different this time around.
Here's what you need to know - and budget for - if you're heading overseas.
The freebies you absolutely need
Two must-haves won't cost a cent but they will make it a lot easier to get out of, and back into, Australia:
1. An international COVID-19 vaccination certificate (ICVC). This is not the same as the Medicare vaccine certificate. The ICVC has a QR code that's internationally recognsied. Get your ICVC through the MyGov portal.
2. Australia Travel Declaration app. You'll need the app to complete an Australian Travel Declaration at least 72 hours before you return to Australia from overseas.
Flight credits - read the fine print
Now's the time to go back through any flights you had to cancel in the past 18 months, check if you received a flight credit, and line up them up in order of expiry date.
One trap to watch is whether the expiry date is when you need to book flights by - or the date you need to travel by.
Virgin Australia has several types of credits, each with different rules and in some cases, seat availability. Virgin's Future Flight Credits are valid for travel up to June 30, 2023, but you need to book fares by July 31, 2022, to use the credits.
Good news for Jetstar devotees. Credit vouchers due to expire between June 1, 2021 and March 9, 2022 have been extended to a December 31, 2022 expiry. So you could have more flight credits than you realise. Check credits at the Jetstar voucher balance portal.
Travel insurance - look for COVID cover
The Insurance Council of Australia (ICA) warns that an increasing number of destinations, including Singapore, the UAE and Thailand, require overseas visitors to have cover for COVID-related medical treatment.
Fortunately, travel insurance is adapting to COVID-19, and Andrew Hall, CEO of the ICA, says, "Some insurers are now offering cover for a range of COVID-related situations."
As a guide, Medibank Travel Insurance provides cover for overseas medical treatment if you're diagnosed with COVID-19 while you're away, plus cover for quarantine costs if you're diagnosed with COVID-19 while overseas
The ICA says the introduction of COVID cover has not significantly impacted premium costs. But the big gap in cover - even under policies with COVID-19 features, is if the government imposes a ban on travel to the country you're planning to visit.
This being the case, check the cancellation conditions for any flights, accommodation or tours you pay for prior to leaving - and monitor the SmartTraveller website for updates of travel bans and official warnings.
Some tourism operators such as ClubMed are offering complimentary COVID medical cover when you make a booking. Read the policy to know what protection it provides, and be wary of relying on freebies rather than standalone travel cover.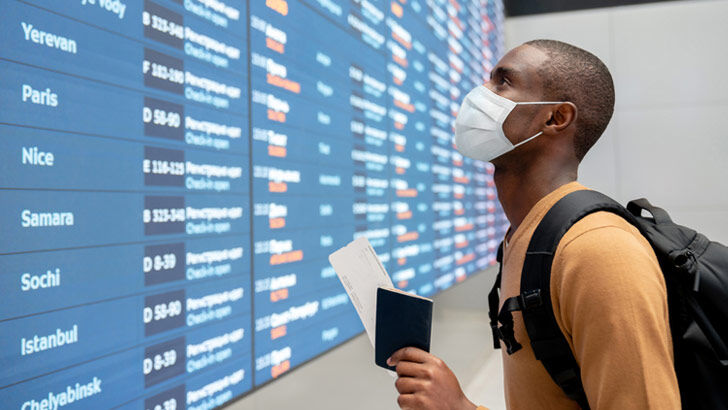 Budget for COVID-free certificates
Plenty of popular destinations - including Australia - require a negative COVID-19 PCR travel test at least 48-72 hours before you can enter the country.
This means you may need to arrange a test before you leave Australia, with a second test required while you're away to re-enter Australia.
Travel tests in Australia are available at accredited pathology labs - google 'COVID-19 testing for travel' to find your nearest service. The test costs around $150 or $300 for a same-day service. This is the cost per person. So a family of four would need to budget upwards of around $600.
You'll also need to organise a negative COVID-19 PCR test 72 hours or less before checking in for your return flight to Australia. Expect to pay for these too. The trick is to factor time for the test into your holiday schedule. Clinics in London can charge around £135 (about $A250) per fit to fly test, but leave it until the last minute and the cost can go as high as £395 (about $A724).
Tips to save on renewing your passport
Check the expiry date on your passport. The Department of Foreign Affairs and Trade (DFAT) warns that some foreign governments won't accept arrivals with less than six months remaining on their passport.
A new passport costs $301, and it can take three weeks. If you're in a hurry, express processing costs an extra $220.
Streamlined renewal can speed up the process. It's only available for adults with an existing or recently (less than three years) expired passport. If you qualify, you only need to submit your application checklist or form, two passport photos and your most recent passport.
If you've changed your name because of marriage or divorce you can apply for a free replacement passport but this won't usually extend the expiry date of your passport.
Be flexible around dates
Plenty of Aussies are champing at the bit to get airborne and enjoy a getaway. But it could pay to wait.
International airfares to and from Australia are high at present, and it will take time for the aviation industry, and airfares, to return to more normal conditions.
By way of example, a Qantas return economy flight from Sydney to London can cost around $3820 in mid-December 2021. Book the same flight for July 2022 (the UK's peak tourist season) and the return airfare drops to $2980.
The flipside is that at present, airlines have more relaxed rules around flight credits if you need to change dates. It is a fair bet that this, like the pandemic, won't last forever.
Get stories like this in our newsletters.