Soaring used car prices could leave you under-insured
Rush to refi smashes records, soaring used car values are a cue to review cover, and one in two investors fail to plan. Here are five things you may have missed this week.
Homeowners race to refinance
Home loan borrowers aren't taking rate hikes lying down.
Mortgage refinancing is going through the roof, with refinancing for owner occupiers rising almost 10% in June to hit a new record high of $12.7 billion for the month. That's 24.6% more than June 2021.
As lenders compete for business, deals for refinancers are heating up.
AMP Bank is offering up to $5000 cashback on refinances though you'll need a million-dollar-mortgage to be eligible.
One Two Home Loans is offering a $5000 cashback plus they'll match any additional loan payments you make in the first six months, up to $2500 in total.
Bank of Melbourne and BankSA both offer $4000 cashbacks.
While conditions apply to all these deals, they could be worth a look to see if you'll save.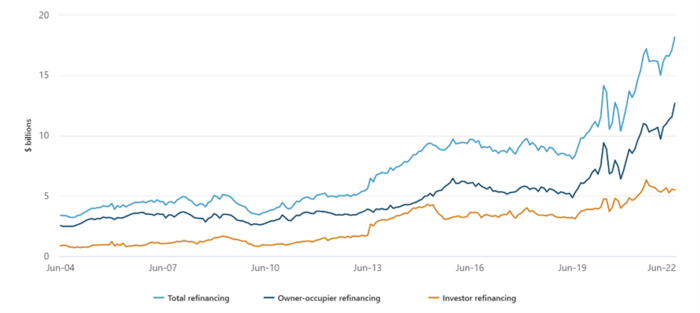 Used cars up 15.7% - time to rethink insured values
Used car values have skyrocketed during the pandemic, and although the rate of appreciation is slowing, second-hand car prices are still 15.7% higher than last year according to the Datium Insights-Moody's Analytics Used-Vehicle Price Index.
Compare The Market is warning this could see car insurance values fail to keep pace with market values - especially if your car is insured for an agreed value instead of market value.
Agreed value policies have traditionally come with slightly higher premiums because cars normally depreciate, sometimes rapidly.
In these not-so-normal times, it's worth checking to see what your car is insured for - market value or agreed value, and then jump onto sites like Redbook to see what the vehicle is worth.
It can pay to have a celebratory drink on hand. A five-year old Toyota Hilux that sold for $56,440 new in 2017 can be worth $51,600 today according to Redbook.
What the average property investor really looks like - and who fails to plan
Despite our national obsession with real estate, most Australians don't own an investment property.
The latest PropTrack insights report from the REA Group shows only around one in five households own a rental property, and most don't fall into the uber-rich camp.
The majority of landlords are also paying off their own home.
Surprisingly, households that own their home outright are far less likely to own a rental property.
While the bulk of landlords are aged 36-65, more than one in 10 25-34-year-olds own an investment property.
Across all property investors, the overwhelming majority (70%) own just one rental place.
While income can shape how many properties an investor owns, another factor can also come into play.
A national survey by Perth-based property group Momentum Wealth, found 52% of investors with one property have no formal investment plan in place, while up to 89% of those with multiple properties follow a personalised investment roadmap.
Damian Collins, Managing Director of Momentum Wealth, says planning "ensures an informed purchase decision at the start of the property journey, and provides a solid launch-pad for further investments in the future."
Were the good ol' days really so good?
After years of wafer-thin interest rates and barely perceptible inflation, many Australians are having to tighten their belts.
It can see us hankering for the good old days.
However, a new report by the Productivity Commission shows that in the general scheme of things we are much better off today than in the past.
A century ago, buying a bed demanded 185 hours of work. Back in the 1990s, we had to work an average of 41 hours just to buy a bed. These days that figure is down to 18 hours.
What's especially interesting is that the Productivity Commission says the dramatic rise in living standards over the past 200 years is not the historical norm. For most of human history, the average person experienced virtually no growth in material prosperity.
Maybe 2022, despite all its challenges, isn't so bad after all.
From billionaire to millionaire in a flash
For the lucky few who scoop a lottery in Australia, the winnings aren't taxable.
That's not the case elsewhere in the world as one lucky punter in the US is about to find out.
An Illinois resident has just landed a very solid win, taking out a $US1.28 billion ($A1.84 billion) lottery prize.
But there's a twist.
Winners in the US can choose to take their prize as an annuity over 30 years, or go for a far smaller lump sum.
Most people opt for the lump sum, though whichever choice you make the winnings are taxable.
The upshot according to Forbes magazine is that if the lucky winner takes the cash now, the prize drops to $US747 million ($A1.07 billion).
Once tax has been siphoned off, the payout will be whittled down to about $US433 million ($A622 million).
It's still a solid win however it does see the punter drop from billionaire to millionaire in the stroke of a pen.
Meanwhile, the US Internal Revenue Service (the US equivalent of the Australian Tax Office) has also pocketed a tidy win.
Get stories like this in our newsletters.