Stake to charge brokerage fees on US shares
Revealed: the most expensive city to educate kids, first home buyer hotspots, and borrowers wise up to 0.5% loyalty tax. Here are five things you may have missed this week.
Online broker Stake goes from free to fee
In a sign of these inflationary times, broking platform Stake will introduce brokerage on US share trades for the first time, effective March 4, 2023.
US share trades below $30,000 will cost $US3 (up from $0), larger trades will attract brokerage of 0.01%. The current trading fee of $3 on Aussie share trades below $30,000 won't change though a 0.01% fee will apply to trades above $30,000.
Stake's new fees are still vastly cheaper than many other brokers. CommSec for instance charges $US19.95 for trades up to $US5000 on US share markets.
However, super-cheap or zero brokerage can come at the cost of less favourable buy/sell spreads. This means the price you pay to buy a stock could be higher than the last traded price. Or if you sell, you may receive less than the last traded price.
Capital punishment - the $100,000-plus bill to educate our kids
Futurity Investment Group has revealed Australia's most expensive cities for school costs.
Melbourne tops the list as the nation's priciest city for a public school education, with the cost of 13 years of schooling likely to top $100,000 for a child starting school this year.
Canberra is the most expensive city for a Catholic school education, with parents likely facing a total bill of more than $197,000 from kindy to Year 12.
Sydneysiders can face serious hip pocket pain if their child attends an independent school, with a 13-year bill totalling close to $360,000.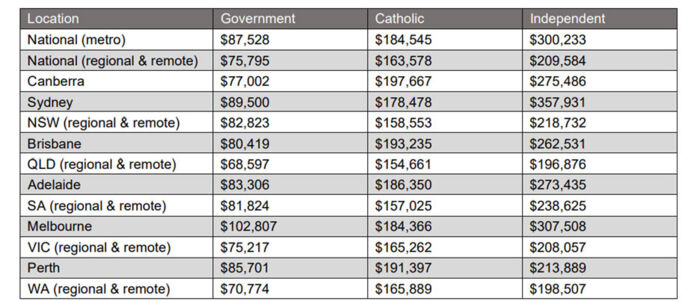 Futurity Investment Group executive, Kate Hill, says the total cost of education has risen at nearly double the rate of inflation over the past decade.
"More than ever, the costs associated with education are placing more of a burden on Australian families," says Hill.
"Parents who have planned and saved for education will be in a better position in the long run and will be able to explore and afford choice when it comes to their children's education."
Futurity has a range of tax-friendly education bonds that allow parents and grandparents to invest for the education needs for children and grandchildren.
Australia's first home buyer hot spots
NAB has revealed first home buyers' pick of preferred suburbs based on home loan data over the last six months.
The top spots for first-time buyers nationally are:
QLD - Toowoomba , Beenleigh, Yarrabilba
NSW - Schofields, Berkshire Park, Box Hill, Maraylya, Marsden Park,
ACT - Dickson, Watson
VIC - Hoppers Crossing, Tarneit, Truganina
TAS - Burnie, Acton, Camdale
SA - Morphett Vale, Woodcroft
WA - Armadale, Harrisdale
NT - Nightcliff, Casuarina
NAB Executive Home Ownership, Andy Kerr, says value and location remain the two most important factors for first home buyers when looking to purchase their first property.
He adds, "Despite the overall market softening, first home buyers are bucking the trend with sales staying stable nationally and growing in some of the hottest suburbs such as Schofields in NSW."
Home owners wise up to 0.5% rate gap
As interest rates rise, the rate gap between new and existing home loan customers is widening.
While most lenders have been passing rate hikes on in full to existing customers, many have cut their introductory rates to new borrowers to remain competitive.
Reserve Bank data shows this can leave loyal borrowers paying an extra 0.5% on their loan rate.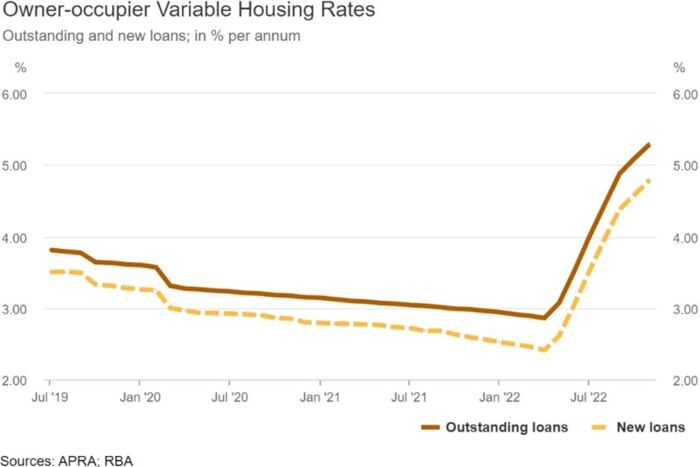 Mortgage Choice says borrowers are wising up to this rort, though 7 out of 10 home owners just want to pay the same rate as new customers rather than go through the process of refinancing.
One in two borrowers are either aware they're being ripped off by their lender, or simply don't know if they're paying the best rate available.
Mortgage Choice CEO Anthony Waldron, says, "Unless Australian lenders begin offering the same rates to new and existing customers, it will pay to regularly review your home loan."
Moves to crackdown on abuse offenders hiding super
The Federal Treasury is calling for submissions on whether survivors of child sexual abuse should be able to access the offender's superannuation as part of a compensation order.
At present, victims of crime who launch a civil action cannot access the perpetrator's preserved super benefits.
Recent years have seen a number of high-profile reports of convicted child sexual abuse offenders deliberately hiding millions of dollars worth of assets in super to defeat compensation claims.
This can delay or prevent survivors' access to compensation and add to their emotional distress.
You can have your say on the matter by contacting [email protected]. Submissions close February 16, 2023.
Get stories like this in our newsletters.