Ask Paul: Where should I park $150k in savings until the market drops?
Q. I'm 32 and my wife Annabel is 28. We have recently sold our first home due to my moving for work. We plan to rent in our new location and we will have around $150,000 cash in savings.
I currently have a Vanguard fund with around $10,000 invested and another $10,000 in direct shares, with no debts other than a novated lease on my car.
My wife will not work next year as we are expecting our first child in March, so I will be the only earner, bringing in around $150,000 a year before tax.
I am not confident about investing more in the stockmarket as I have a bearish outlook at the moment. I believe a correction is coming and I want to have cash available to take advantage of the next downturn.
However, with such low interest rates at the moment, "high interest" saver accounts are barely keeping up with inflation.
Where do you suggest I park my savings for the next 12 months or so to be ready to take advantage of a market drop?
I've been looking at the Vanguard Fixed Interest Bond fund - is this a low-risk alternative to shares while providing a better return than cash? - Michael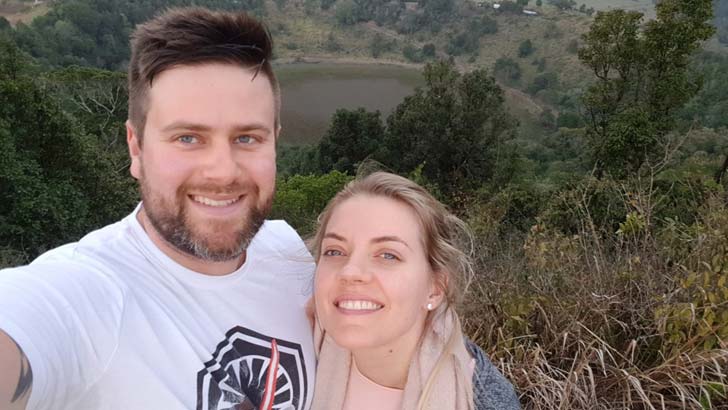 Hello Michael ... exciting times for you and Annabel with a baby on the way.
It is extraordinary how time races by. I have strong memories of our first child being born a bit over 32 years ago and recently he and his wife had their first baby and our first grandchild. The arrival of a baby is a special time.
But during all the excitement, life and money go on, so it is great that you have a plan to build wealth. Babies are not cheap!
You may well be correct about a market fall. Many experts agree with you. Here, though, we may have to agree to disagree.
Once in a while I have done nicely buying in a big downturn, but I never pick when they will happen. So I stay pretty much fully invested.
I always keep some cash, and my dividends build up, so I can invest in a downturn. The last time this happened, though, was after the GFC. Seeing quality shares halve in value was an attractive opportunity.
But when will the next big downturn be? I have no idea, but it does seem to me that the big downturns come for reasons we did not pick and usually when everyone is bullish. Right now lots of professionals and investment funds do have large cash weightings, supporting your argument.
Personally, I would use dollar cost averaging and buy steadily over a couple of years. There is little risk in holding your $150,000 in cash, except the risk of missing the returns from shares. So I do wonder if your strategy has to be all or nothing.
The other issue I am a bit concerned about is your time frame for buying a new home.
With my passive approach to markets, my returns come from "time in the market" and not "timing the market", so I tend to invest for minimum seven-year periods. I do tend, probably incorrectly, to hold investments forever, unless I see structural change in an industry.
This has influenced my decision not to be overweight in banks. I feel they have a fair few headwinds. But areas such as technology, health, resources and property will run way beyond my lifetime.
An example is CSL. I have held its shares since their float out of the CSIRO. At over $230 I am heavily overweight in this stock, so at times I sell a few, but this sector has vast potential, so I let my profits run.
The timing decision I will leave to you, but it is not an easy path to pick and follow. With a low-cost bond fund such as Vanguard's, I am comfortable looking at this for a shorter time frame than for shares. However, these funds have had a fantastic run as rates fell and my return expectations are pretty modest.
All in all, I think a big part of your decision is your own personal timing in regard to how long you will rent before you buy a new home. If it were in a growth area, buying it while the market is still a bit soft and renting it may not be the world's silliest idea.
These choices I will leave to you and Annabel, but family is always more important than money and I wish you all the best.
Get stories like this in our newsletters.