Celebrated hotpot chain Haidilao makes for a hot stock
The name means fortune in Chinese.
If you go by the increase in its share price, which has almost doubled since it listed on the Hong Kong Stock Exchange (HKSE) in September 2018, then Haidilao International Holding Ltd (06862 HK) has indeed delivered some good fortune to its investors.
Haidilao International Holding Ltd (06862 HK) shares listed with an IPO price of $HK17.80 in September 2018.
Almost a year after listing, the share price has closed as high as $HK37.25 with an intraday high of $HK37.95 achieved at the end of August 2019. Recent industry reports show the company's annual revenue last year stood at nearly 17 billion yuan (then $US2.6 billion), representing yearly growth of 59.5%.
What is Haidilao and what does it do?
If you're a foodie or one who is even just slightly interested in food (and who is not?) chances are you will have heard of or even been to one of the popular and always fully-booked Haidilao hot pot restaurants.
Haidilao International Holding Ltd (06862 HK), is a chain of hotpot restaurants. It was founded in Jianyang, which forms part of Chengdu, the capital city of Sichuan Province in China, in 1994.
Today, Haidilao is one of the few restaurant/food chain companies listed on the Hong Kong Stock Exchange which is dominated by property, high finance and industrial companies.
The hotpot chain was founded by Zhang Yong, who is now a naturalised Singapore citizen and resident. Zhang Yong recently topped the Forbes Singapore Rich List with an estimated wealth of US$13.8 billion.
Humble beginnings
Accounts of Haidilao's beginnings reveal that the company started as a small restaurant enjoyed among friends who served a local style hotpot.
Today, 25 years later, the local restaurant is a well-known global chain of specialty restaurants. According to company statements, Haidilao has 593 hot pot restaurants around the world.
Whether you're in Australia, Singapore, Hong Kong, Taiwan, London, Canada or the USA - you will most likely find a Haidilao restaurant.
In China alone, Haidilao has 300 hot pot restaurants.
What's driving Haidilao's growth?
Based on recent industry estimates, the restaurant chain's revenue nearly tripled in the past three years to 17 billion yuan ($2.4 billion) in 2018, while profit climbed over 500% to 1.7 billion yuan in the same period.
While the concept of hotpot restaurants is not new, market commentators and observers believe one of the key factors for Haidilao's success is the scalable nature of the business.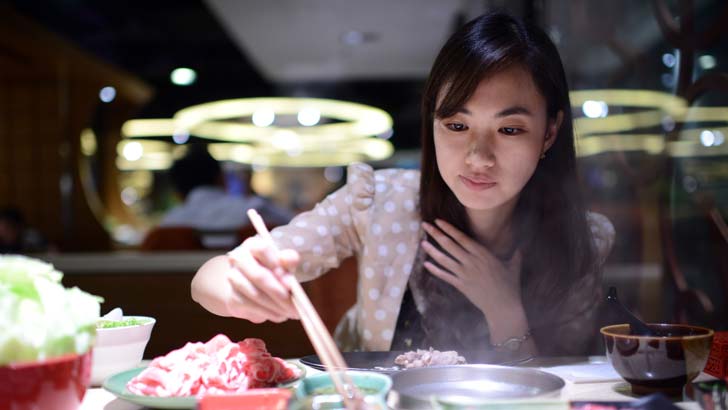 What is a hotpot?
Hotpot is a Chinese cooking method believed to have originated during the Han dynasty - around 206 BC-220 AD.
With a hot and simmering pot of soup set on the dining table, diners can pick and choose different ingredients - vegetables, meat, dumplings or seafood - and cook them in the pot.
Similar to sharing fondue with friends or family, the hotpot style of cooking and eating out provides a more relaxed and friendly experience for diners.
This restaurant set-up - where the diners are doing the cooking themselves - means there's no need for highly-skilled chefs and kitchen staff.
All the kitchen staff have to do is to prepare and set the fresh ingredients and the pot of soup on the table.
This means that Haidilao can replicate its restaurant model and open more outlets much more easily than other, more formal restaurants.
From hotpot to hot stock
With a market capitalisation of HK$182 billion, Haidilao is one of the largest additions to the MSCI Emerging Markets Index by market capitalisation according to industry reports.
Based on industry estimates, Haidilao, is the market leader in hotpot in China, a segment that accounts for approximately 14% of the country's $21 billion restaurant scene.
Share price performance
After it listed in September 2018, Haidilao's share price settled into a trading range centred on the $HK17-18 region with lows around $HK15.45 and highs of $HK19.45.
In early February prices broke to a new high above $HK20 on surging trading volumes.
Over subsequent months further surges higher in price have been followed by modest corrective retreats and periods of consolidation. The series of higher lows and higher highs reveals a strong upward trend on the charts.
What analysts say about Haidilao
Industry analysts who track Haidilao say the lack of competitors in this space and the fragmented nature of the industry works in favour of the company.
Analysts believe Haidilao's market share (of the hotpot segment) has room to increase further as the industry evolves and the strongest players grow ever stronger.
Given the rising popularity of Haidilao's hotpot restaurants and the company's plan to expand to as many as 5,000 restaurants worldwide, we consider it a buy.
Get stories like this in our newsletters.