Making It Work: How these small businesses have perfected the pivot
When COVID-19 forced the closure of events, bars, and restaurants, some nimble business minds decided a pandemic wouldn't stop them from creating new opportunities. And for some, these short-term projects have become a viable long-term source of income. This week, we revisit three businesses which showed us how they've been successful in Making It Work.
StageKings
Ten weeks after StageKings started making furniture to keep the business afloat, they experienced their biggest day of sales, and the success continues.
The stage-building company turned its focus to building home office furniture, the IsoKing desk, for people who suddenly found themselves ill-equipped to work from home when coronavirus lockdowns began.
Following their success with the desks, StageKings made storage boxes and bookshelves, then as people began returning to work with social distancing recommendations in place, the company focused on making desk dividers.
"We've done a lot of dividers - fitting out whole offices, including an engineering one in North Sydney with 20 sets of dividers, and we're about to do another in Ingelburn," Stagekings managing director Jeremy Fleming says.
They recently sold 300 shoe racks in one weekend, and took 900 orders across their range.
"A lot of people are repeat customers and a lot are new. One lady has bought from us seven times," Fleming says.
Stagekings is now making more than 30 products, including a jigsaw table now that people are rediscovering old pastimes, and Prime Minister Scott Morrison dropped in to buy one for his family.
Owner Jeremy and his wife Tabitha now employ 54 people including head of production Mick Jessop.
Fleming has tried to employ as many people from the events industry as possible while their work is still on hold.
While he doesn't see big festivals returning until next year, he is excited to be working on a small stage for a festival site at Sydney Zoo.
"They did a test run in Tempe with Casey Donovan and that's a bit exciting - feedback was great, media coverage was great, and there was lots of sponsorship."
Stagekings has produced more than 10,000 pieces of furniture in the past few months.
"It's a very good business. I think we will continue it, we will set it up and eventually split it and run two separate businesses," Fleming says.
"The focus on Australian manufacturing and the number of people who want to support local and shop local is really inspiring."
The company is currently finalising agreements with different designers, including one to produce educational toys that are normally manufactured in China and the US.
"I'm actually looking forward to seeing how far we can go with this business. I'm looking forward to stages coming back but this business is really exciting at the moment.
"I think we're in a good place at a good time."
Stagekings has donated more than $40,000 to Support Act since the shutdown.
Drinks Trolley
Since last catching up with Drinks Trolley co-founder Mairead Jarrett, she's broken her foot, moved house and cared for her dog in hospital.
But while life has had its ups and downs, business has been good, she says.
"It's been interesting; so much changed so quickly and constantly, and it still is," Jarrett says.
Jarrett and business partner Jono Jenkins had been working in the wine business - Jarrett in marketing and Jenkins in imports. But these jobs evaporated at the start of lockdown.
They decided to set up Drinks Trolley to help venues offload alcohol by selling it directly to customers through a delivery service.
"When we set it up it had specific reasons - to help licensed premises get rid of the stock they couldn't sell - then the licensing laws changed and they could sell takeaway and alcohol and now places are open again. We've had to be more agile than ever."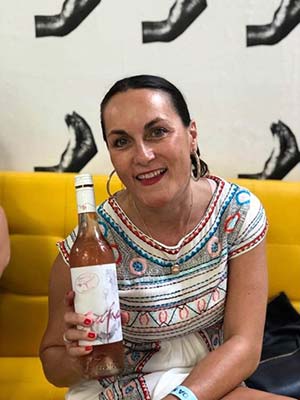 The business model changed yet again.
"We're not taking stock from venues now, but the venues opening is still early days and it's still difficult to go out and socialise and people are still struggling," she says.
"As a result our business is holding its ground.
"People know they may as well order and know and can have a drink at home at 6pm."
Drinks Trolley also offers products not available outside restaurants and bars.
"We're working harder to make sure our community focus, business focus and wines that are hard to find are still there," Jarrett says.
Another challenge Drinks Trolley faced was the reopening of the Chippendale pub where they had been storing stock, so Jarrett had to change their delivery model to accommodate a warehouse.
"We want more customers but had to adapt yet again," she says.
"Business has longevity and what we're finding is we have very loyal wine customers, it's being delivered for some people in a couple of hours and people are on social media saying these wines are incredible.
"One lady came up to me on the street and said, I don't drink pinot but the Deliverance pinot is the most amazing wine, please tell me you're never going to run out," Jarrett says.
Drinks Trolley is relying on a lot of word of mouth.
"We're offering a really good service and still supporting small guys; the battle between the big and the small is still valid," she says.
"We're also still going to small wineries and looking for new suppliers to keep our offer live," she says.
Drinks Trolley also introduced spirits to keep their offerings relevant.
"We've worked really hard and have a loyal following. We're working on increasing visits to our site and getting people to subscribe." Jarrett says.
"We've also introduced another section where if you spend $500 you are exposed to an Aladdins' cave or vault of special wine as a reward...we have double magnums and great finds there."
Jarrett and Jenkins are still not paying themselves but Jarrett says it's coming.
"The model is viable," she says.
"I'm a wine head, I love wine. I love getting great wine in the hands of people and people are realising they can enjoy their home time - and that's going to stay."
Tristan Baker - BAM studios
When live events and corporate functions were suddenly cancelled, videographer Tristan Baker saw his livelihood put on hold.
Quick to pivot, he realised his skills in live-streaming events could be put to use in funerals as the government restricted the number of people allowed to attend.
But the crew and preparation required often meant the service was unaffordable for many people.
Instead, Baker has found a new role live-streaming at the Riverside Theatre in Parramatta.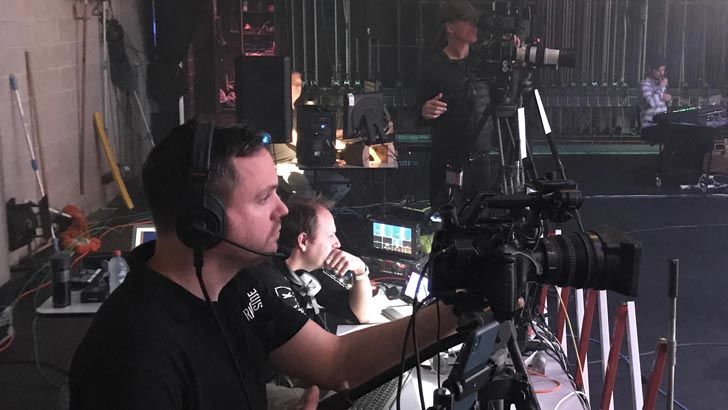 "The theatre has been so impressed with the quality that they have acquired more funding for shows to be live streamed," Baker says.
"Riverside Theatre, which I'd worked with before, jumped on a digital concert series - and since the first four have been successful those they have now been given a grant to do eight more shows."
The first series included Jonathan Biggins, Rachel Beck, Ngaiire and Justine Clarke.
The second series is yet to be announced but is likely to happen over the next couple of months.
To film in the theatre, Baker says he has seven camera, two camera operatives, a sound mixer and lighting designer, while he live-edits and streams the show.
In addition, Baker has been working with Knox Grammar and their 64-piece band which he has been able to combine into a seamless video.
And there has also been an increase in interest from schools which need to produce video messages for students and their families.
Support Act
stagekings.com.au/store
facebook.com/StagekingsAU
drinkstrolley.com.au
facebook.com/drinkstrolleyaus
bamstudios.com.au/tristan
Get stories like this in our newsletters.