Making It Work: From opera singer to teaching physics
Australians have had to adapt after their livelihoods took a hit from government restrictions introduced to curb the spread of coronavirus. In this series called Making It Work, we look at how individuals and businesses have pivoted to stay afloat during the crisis.
Forget the stereotype about entertainers who wait tables when they're not performing - Jacqueline Dark is an opera singer who is also a physicist.
"I've always sung, I don't remember I time I wasn't singing," she says.
"I always wanted to be a singer but I didn't know that was an option, then I saw a musical and realised that was what I want to do.
"My mum said for me get a proper degree under my belt and in Year 11 I had an incredible physics teacher and she opened my eyes to how extraordinary the world of physics was. I taught for 10 years and I was so passionate, I told my students that they would leave loving this subject - one is now an aeronautical engineer and a lot of have followed science and engineering careers."
Dark earned a physics degree and a Diploma of Education and then taught for a decade.
She performed in amateur musicals until a friend recommended she take an opera course at the prestigious Victorian College of the Arts, which takes just a handful of students each year.
"After graduating, I continued to work and sing on the side but that turned into working part-time to accommodate the singing, and then singing took over and the teaching stopped," she says.
Last year Dark was able to combine her two loves - physics and opera - for a special concert with renowned scientist Brian Cox and the Melbourne Symphony Orchestra where they explained our place in the universe.
Under pressure
Dark lost all her work from when the first restrictions were introduced in March until July, and because she's a freelancer there is no obligation for companies to pay any of their artists.
"I had a concert in late March and that was let go, then a major contract in April to July," she says.
"I had been also been rehearsing for the Opera Australia's Ring Cycle, to be performed in Brisbane, but for now rehearsals have been set to continue in August.
"Some companies have got in touch to say they would like to pay something, although they don't have to, and artists are going to remember who they are because they're the ones investing in the future of art in this country."
Learning to adapt
Dark says she lives month to month, and while not destitute, she has no regular income coming in.
"Normally you can try and search for work such a cabaret performance, but in this situation there is nowhere else to go," she says.
And, like many others with children, she's home-schooling an active 7-year-old. "I haven't got time to be despondent or panic because I need to get on with it," she says.
Dark realised she'd have to find a way to make money before she was hit with a major bill.
"I'm a bit of a Pollyanna and I also realise panic doesn't achieve anything, so I needed to come up with workable solutions to make some money," she says.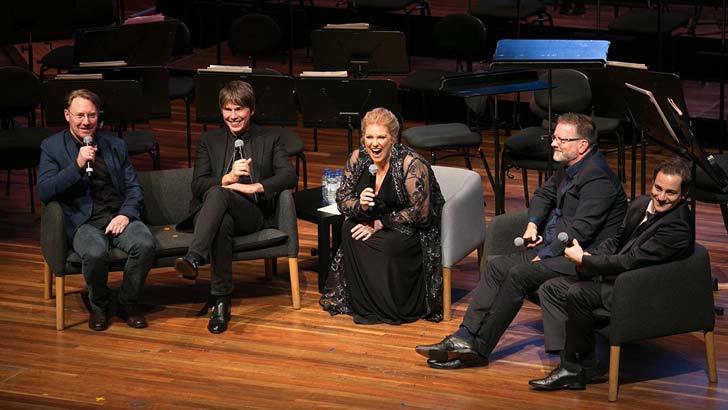 Staying afloat
In talking to other parents, Dark found they needed help in teaching science to their children.
While other artists are looking at Patreon or live streaming concerts, Dark realised she had another string to her bow to explore.
"I have a love and passion for teaching physics and what I see people need is a way to teach their kids science and physics from home," says Dark, who started writing modules and filming educational videos for primary school students.
"I want something that's fun for kids that gets them doing stuff parents don't have to do themselves, I'm going to video my son doing the experiments."
Students aren't the only ones on a learning curve.
"I'm learning video editing which is new and LearnDash which is learning module software, and developing cheat sheets for parents so they're not flying blind when their kids ask questions.
"I'm now drawing from the stuff I know and using that to create modules for the little kids to get them solidly hooked in the concepts that relate to physics: voltage and current for electricity, then gravity, force and acceleration makes sense."
Australian software and event company ArtFuel by I-Nex helped her set up the lessons online and create a payment system.
"This project would not have been possible without their extraordinary generosity and the unwavering support and love CEO Mark de Raad has for the arts in this country," she says.
Dark also jokes that developing this program saves her 20 Skype sessions explaining concepts to friends with children.
"Even a tiny fee at the moment will help - parents might find it's worth a few dollars a week," she says.
The modules are priced at $10 each and feature her son performing the experiments.
"I have a child who is a natural clown and he volunteered to do the video experiments," she says.
"As he says, kids don't want to watch me, they want to see other kids doing it."
The future
Dark says she'd love to continue this project into the future if people are interested.
"When everything gets back to normaI, I would love to extend it," she says.
Parents are now asking for lessons for older students, Dark says.
"When I taught Years 11-12 my deep belief was if you get the fundamentals right then everything becomes easy," she says.
Dark is also available for private physics tutoring for senior students.
Get stories like this in our newsletters.