Lockdown chowdown: How a food truck adapted to COVID-19
The Smokin' Bro & Co food truck, run by husband and wife Brody and Laticia Crawford, was booked out for the whole of 2020. Then COVID-19 happened.
The American-style barbecue food truck based in Mudgee in central NSW started out servicing local winery cellar doors that didn't have their own restaurants.
"We show up and provide food, and bring a larger customer base to their cellar door and we both benefit from that," Brody Crawford says.
The idea behind Smokin' Bro & Co came to the Crawfords after they began cooking American-style barbecue at home with friends.
Inspired by their love of cooking with fire, and with successful barbecue restaurants opening in other areas, they jumped at the idea of their own food truck.
Within days they had ordered a large American-style barbecue.
"We were flying blind a bit because neither of us had been in hospitality but we built the business overnight as we knew the needs of cellar doors," Crawford says.
In addition to servicing cellar doors, the food truck catered weddings and other events.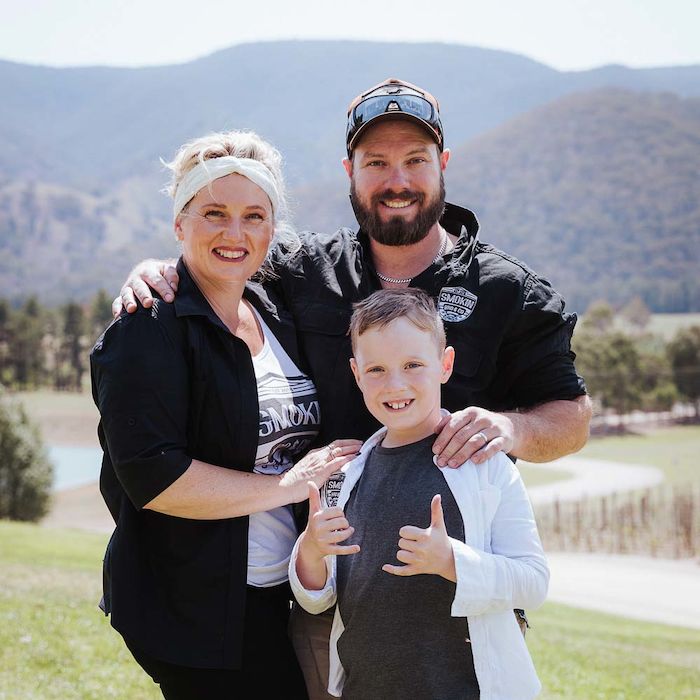 By the end of 2019 Smokin' Bro and Co was booked out until the end of 2020. With the future of the business looking bright, Brody left his full-time job as a winemaker.
"I basically resigned on March 13 to take on Smokin' Bro just before COVID hit and lost events overnight," Crawford says.
Eager to maintain momentum and keep money coming in, they hit on the idea of doing home deliveries.
"That was on the Wednesday night and we were doing them by Friday. I was expecting to about 30 deliveries and we did just over 100 that weekend."
Using social media to promote the business, the couple advertised its delivery options of BBQ dinner packs including brisket, pork belly, smoky meatball, brisket beans, corn muffin, coleslaw, pickle and sauce.
"We're well-known in the area, and when I wrote the business plan and modelled it, we always wanted to make sure we give good value-for-money meals and good options, and all our side dishes and sauces are home-made."
Adapting to change
The business is now in a better position than it was 12 months ago, Crawford says.
"When we look at what we lost and what we gained, we are slightly better off because our community really got behind us.
"That was a big part of our success because they knew that their support was what kept us afloat.
"There was no other way for us to make money within that business other than do those home deliveries."
The food truck did its first pop-up in July at the Federal Hotel in Mudgee with more than 400 customers coming over four hours.
With coronavirus restrictions easing, Smokin' Bro & Co will now offer delivery once every four to six weeks, but customers can still pick up their food in person.
We're #readyforthefedi ...are you? Tomorrow from 12pm - 7pm unless sold out! . . . . #smokinbroandco #thefedi #thefederalhotelmudgee #fuckthecoronapocalypse #mudgeebbq #mudgeefoodvan #mudgeeregion #smoked #barbeque #ausbbq #catering #texasbbq #mudgeefoodie #smokedmeat #bbqsmoker #bbqlife #bbqfood #bbqnation #foodporn #smokedbbq #bbqaddiction #supportlocal #localbusiness #lowandslow #pitmaster #livelovebbq #smoketherest #feedthepeople
The future
Crawford was approached at the end of last year to run the restaurant for a local brew pub, so Smokin' Bro and Co could soon have a permanent home in Mudgee.
"The DA is with council at the moment and we're leasing a kitchen," Crawford says.
"It's a major drawcard for them to have us as the provider, we have a good good name and good following that will bring the customers to their bar."
The food truck will also continue to cater events throughout the region.
"We're keeping the business model but evolving to also having a permanent space as well as mobile catering and I think it will draw two different crowds - cellar doors for wine tasting will be a different crowd to the permanent space," Crawford says.
"We still want those venues to benefit from what we've created."
Get stories like this in our newsletters.