The petrol stations that charged you more at the pump last year
The price of petrol is an everyday barometer for the cost of living, one advertised in bright neon lights on a street corner near you.
New research by the Australian Competition and Consumer Commission (ACCC) shows that motorists can potentially save hundreds of dollars a year by filling up at the cheapest retailers.
Independent chain United had the lowest average prices in Melbourne, Brisbane, Canberra and Hobart throughout 2018.
Speedway was the cheapest in Sydney; Liberty in Adelaide; Vibe in Perth; and FuelXpress in Darwin.
"Motorists that always filled up at these independent chains would have come out ahead when it comes to petrol," says ACCC Commissioner Rod Sims.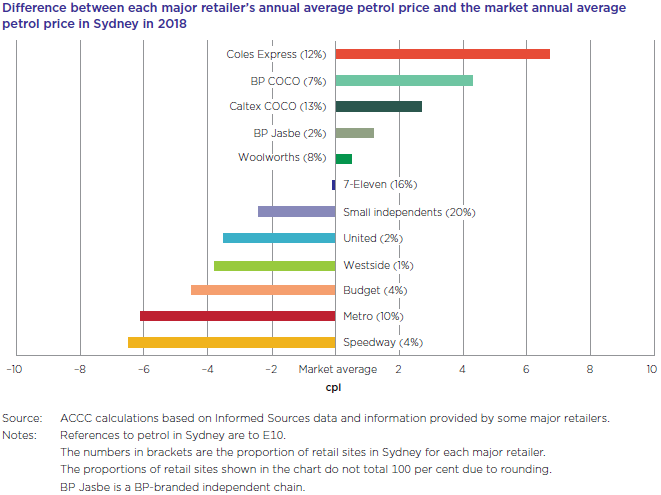 In 2018, if a Sydney motorist filled up at the lowest-priced retailer (Speedway), on average they would've finished $343 better off than shopping at the most expensive retailer (Coles Express).
The difference was less in Melbourne, where filling up at United instead of Coles Express would've netted an average saving of $148.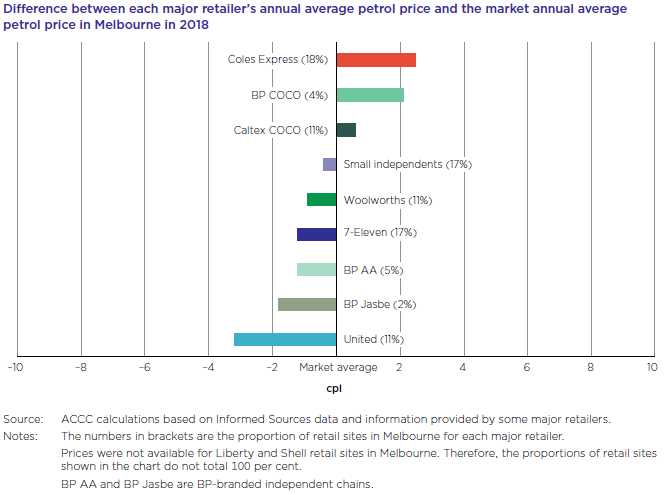 The price gap between the most and least expensive retailer was more exaggerated in 2018 than 2017, the ACCC says. However, this may be due to greater volatility in the international price of refined petrol in 2018.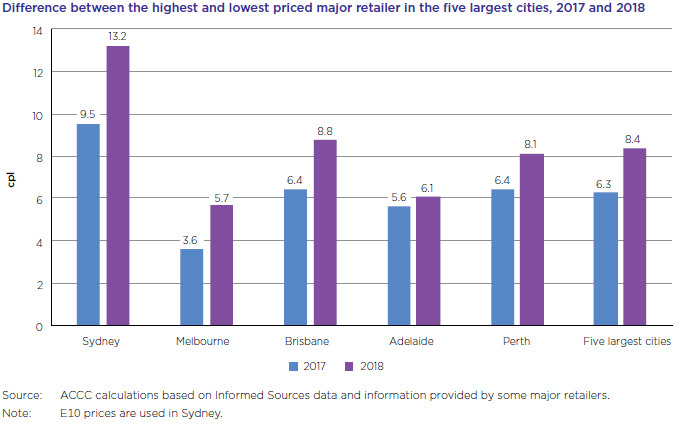 A recurring theme of the report: don't buy your fuel at Coles Express.
The chart below shows the average price differences of Coles Express retailers before and after the price setting responsibilities were transferred to Viva Energy earlier this year. While this move saw the average price fall across all cities - with the most extreme differences recorded in smaller cities - Coles Express remained 2.7 cents per litre above the market average.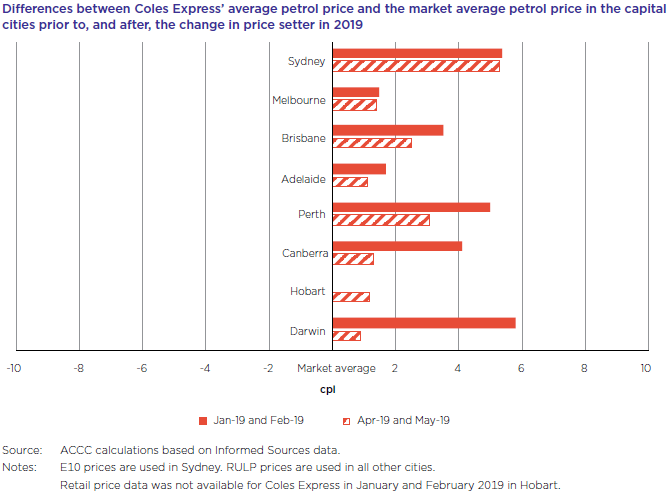 The report analysed petrol prices only, and did not take into account the quality of fuel or overall shopping experience.
"If it was really true that motorists choose service stations solely on price then the majority of the forecourts of the service stations displaying the brands named in the ACCC report as having consistently higher prices would be empty - and that is simply not the case", says Mark McKenzie, chief executive of the Australasian Convenience and Petroleum Marketers Association.
"Many of the businesses that operate in the Australian retail fuels market use different revenue and pricing models which seek to offer value on the total shop - that is fuel and non-fuel products - as opposed to just selling discounted petrol."
These days, getting up-to-date information on the cheapest fuel doesn't mean doing a series of petrol station drive-bys or listening to the news on your car's radio. There are now many apps that provide this kind of information, including MotorMouth, GasBuddy, Refueler, FuelMap and PetrolSpy. The New South Wales Government has even jumped on board with its Fuel Check app.
Get stories like this in our newsletters.