Reebok visionary Joe Foster on making money and making shoes
Joe Foster was born into a family of shoemakers with a notable history in Britain. Through the 20th century, the business grew in fits and starts until it became Reebok - the global brand we know today.
Foster has detailed his story of hard work, industry insight and personal sacrifices necessary to build the brand in his book Shoe Maker, which has just been published.
Here he talks about money lessons he picked up along the way.
Being born into a family with a shoe business, was it a given that you would become part of it?
I guess it was, although having trained as an engineer at college I could have gone into the aerospace industry with the people who created the Spitfire. My father pointed me in the direction of accountancy, but years of ticking boxes didn't appeal. During National Service I was tempted to become a fighter pilot, but ended up returning to the family fold to make shoes go faster.
What was your first job?
I started in Foster's small Olympic Works as a 'clicker'. That's the guy, or gal, who cuts the shape of the upper out of material, which in my case was skins of leather, mostly calf or veal and, before the animal was protected, kangaroo or smaller joeys.
What's the best money advice you've received?
If it's there, use it.
What's the best investment decision you've made?
Travel - you have to go to the event, it won't come to you.
What's the worst investment decision you've made?
Fast cars.
What is your favourite thing to splurge on?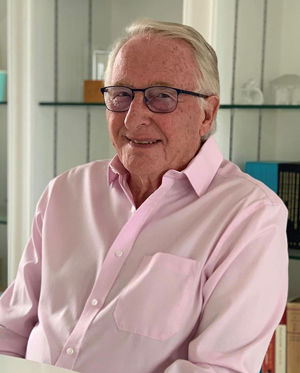 Fast cars. Although I do like to travel. I guess travelling got into my blood after spending the best part of my life either on the road or flying around the globe building the Reebok distribution once the US market took off. I had travelled extensively during my time at Reebok and much of that was alone, especially in the early days. I went on many adventures that I wasn't able to share with anyone.
Now I don't travel alone, it's always two tickets. I love Europe and love to travel to visit the friends I made while building the international distribution. Like me, they are all getting a little older and we like to reminisce, over a good bottle of wine, about our times at Reebok.
If you had $10,000 where would you invest it?
It has to be technology since the world is now, especially with COVID-19, being driven by artificial intelligence, virtual reality, robots and advances in communication and photographic techniques. Since launching my book I have taken part in so many events and all from the comfort of my own home.
One of the most exciting and new platforms we used is Teooh. Each attendee is an avatar that you can customise. One of our guests has a book called Golden Nuggets and his avatar was all gold. My avatar looked at least 50 years younger than me. These platforms are definitely the future.
What would you do if you only had $50 left in the bank?
Get a job, fast.
Do you intend to leave an inheritance?
If we are talking money, then I have to, since my wife is 31 years younger than me. In terms of legacy I hope that the brand Reebok will be around many years after I am gone.
What's been your best money-making career move?
Working with people who are not only very clever but who are also, like me, very lucky. I always looked to employ people who were better than me at any particular job otherwise I might just as well do it myself. Investing in the right people to grow the business and therefore generate money for the business. When I built the international distribution network in the mid to late 80s the key to success was the people. I needed to get the right people and that wasn't always the people that could bring the most money to the table.
Were there other brands you thought were good to help you find the direction for Reebok?
Adidas was always the innovative leader in Reebok's early days, but with the running boom in the US, Nike emerged as the innovator, with Bill Bowerman's use of his wife's waffle maker to inspire Nike's waffle sole. This inspired me to design Reebok's Roadstar sole, which is still used on the Classic models and was first used on our 1988 Aztec shoe, which was to get a five-star rating in Runner's World magazine in 1979, providing a key to the US market.
What was your favourite moment/time in the business?
There are many great and memorable moments, but if I have to name one it has to be when Reebok became numero uno, the number one sports brand, overtaking both Nike and Adidas in the late 1980s. The many years of hard work, combined with luck, paid off.
Finish this sentence: money makes ...
... success easier to achieve, but takes the edge off the challenges and excitement of the journey.
Win Shoemaker: The untold story of the British family firm that became a global brand
Get stories like this in our newsletters.