There's a pandemic - is spring still the best time to sell property?
There is a long-held maxim in the property market to "sell in spring". But is it true, and does it apply during this year's pandemic? The saying stems from the belief that when the sun comes out, buyers are about.
"It's a combination of three things," says Cate Bakos, from Cate Bakos Property. "Everyone's garden looks better and the mud isn't traipsed through the house, the football is over and sellers assume buyers come out in spring."
During spring, vendors decide to sell because they believe buyers will be out and about, agrees Christine Williams, from Smarter Property Investing.
But how much truth is there to this? The answer's not clear cut.
While there are typically more listings in spring, the reason for it is misguided.
"Buyers come out when there's a deal," says Bakos. "If you're committed to buying a house, you don't say to yourself, 'I'm not checking out properties because the weather's bad.' If someone wants to buy a house, they'll be there with a raincoat on."
The difference in sales between the seasons likely has more to do with a change in the number of listings, not the willingness of buyers.
"It's got to do with the quantity of listings, because the clearance rates are the same," says Williams.
John Lindeman, from Lindeman Reports, agrees, saying the difference is in the listings.
"People have a perception about how the market performs. They think spring and autumn is a good time to sell and summer is a bad time to sell because everyone goes on holiday," he says.
It's a horse-and-cart situation.
"What you get is a different number of properties listed for sale through the year, but the same number of sales," says Lindeman.
For vendors, the false psychology adopted by the market means better prices can be achieved outside spring because there is similar demand but less supply.
The COVID-19 pandemic has led to various warnings of massive falls in property values. But the falls have been moderate, and certainly aren't the doomsday scenario some have warned of.
The August CoreLogic home value index declined 0.5% over the past month on the back of falls of 0.8% in June and July and a 0.5% decline in May. The result weighs down the annual growth figure to 6.3%.
Of course, the index covers the eight major capitals and the damage hasn't been evenly shared. Melbourne, and more broadly Victoria, is weakest of the lot.
Victoria's return to lockdown has seen a 14% fall in sales since June, with sales in Melbourne just 10% above its April low. The market has been held afloat to some extent by government economic support initiatives.
"We are still in an artificial market as various support measures help support home price," says Shane Oliver, from AMP Capital.
"Were it not for JobKeeper, the increase in JobSeeker, the bank payment holiday and other support measures protecting heavily indebted households and property investors, prices would be falling more rapidly in response to forced sales."
What's more, some of the major banks have indicated they'll raise rates for interest-only loans for mortgage holders who have extended their pause on repayments.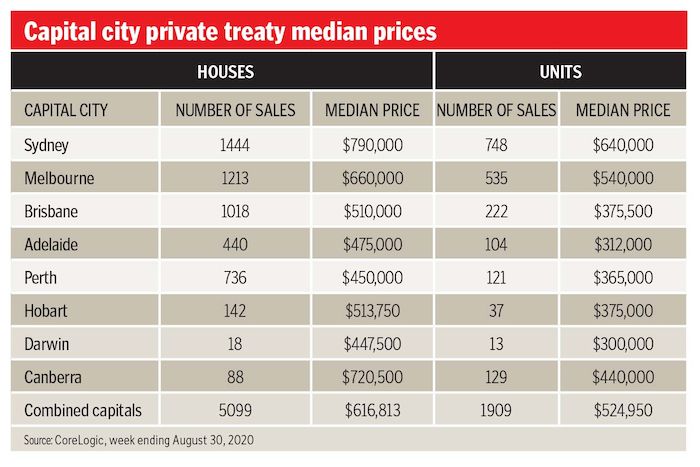 Stock in short supply
Despite the uncertainty, now may be a seller's market.
"Vendors have a huge opportunity because there's so much buyer energy out there," says Bakos.
"I'm fielding calls every day from buyers who are itching to get back out there. It's fair to say that some households will be negatively impacted by COVID-19, but there are still a lot of people who can buy and want to buy."
It all adds up to a shortage in stock.
"There are so many buyers compared to sellers. And this is off the back of two to three years of stock shortage," says Bakos.
Williams points out that despite rising unemployment, many buyers, especially in the $500,000 to $1 million range, remain willing and able. And the banks are on their side.
"With COVID-19, yes, we have 10% of our workforce out of work, but banks are very comfortable lending to them, especially in the $500,000 to $1 million space. Vendors who have put their property on the market have been pleasantly surprised by how much over reserve they've achieved."
While this may continue in the short term, the long term could be a different story as we approach the point next year when the government support and mortgage holidays wind down. "We continue to see capital city average property prices having a 10% to 15% top-to-bottom fall out to mid next year (of which they have fallen 2.5%)," says Oliver.
"Sydney and Melbourne are the most vulnerable given their higher dependence on immigration, higher debt to income ratios, higher price-to-income ratios, greater investor penetration and a possible preference shift away from expensive inner-city property."
Getting finance is always a challenge for buyers. More than ever, the willingness of banks to lend depends on the extent to which they're exposed to the financial impact of COVID-19.
Before the last federal election, banks were extremely tough with assessments and they had really strong mortgage buffers, says Bakos.
"Now we've seen the buffers eased, but they're looking more at employment status."
"It used to be hard to understand how banks determine risk," says Lindeman. "Now it's easy. The banks are looking at two criteria: the industry you work in and the area."
Getting a loan will be significantly harder or impossible if you work in, for instance, hospitality or retail. Likewise, it will be harder if you're looking to buy in areas heavily dependent on tourism.
It becomes a self-fulfilling prophecy. They won't lend into certain areas, then people can't buy property and the downturn worsens.
On the flipside, banks are eager to lend to those who work in the public service or healthcare.
"People in secure employment looking to upsize are in a good position with the banks," says Lindeman. "Banks still need to lend to make money, so they say: 'We'll lend to you because you're in a secure job, you have equity in your home, you want to upgrade to a well-established area'."
Escape from the cities
There may also be good opportunities for people looking to upsize or downsize.
"For anyone who is committed to upsizing or upgrading, or moving to a higher price point, they've got an opportunity to do that if they qualify for finance. I don't expect higher-priced properties experiencing the same price growth as lower price points in the market," says Bakos.
The sea or tree change is set to remain an option, as many people continue to work from home post pandemic. "People now don't have the necessity to travel two hours every day," says Williams.
Tim Lawless, from CoreLogic, says regional housing values have broadly held firm through the COVID-19 period compared with their capital city counterparts. Dwelling values across the combined regional areas of Australia slipped by only 0.1% between March and the end of July, while capital city home values were down 2% over the same period.
As with everything, buyers need to weigh up the positives and negatives of escaping the city.
"On the positive side, housing prices tend to be lower, providing a more affordable entry point to the market, population densities are generally lower, which is something that might be even more appealing as we move through this pandemic, and in many examples regional areas will offer some lifestyle advantages, either via the locations proximity to the coastline or wide open spaces," says Lawless.
"On the downside, regional economic conditions can be more volatile, especially those areas that are heavily dependent on a single industry for economic prosperity, and some areas may not show the same level of amenity and access to essential services as a capital city or major centre."
Get stories like this in our newsletters.