This article is brought to you by Jaaims
Why investing works best as a long game
There are good reasons to think long-term especially when it comes to shares.
There is no denying that sharemarkets can dish up bad days. And as investors discovered in early 2020, some reversals can be real stinkers.
Between February and March 2020, the leading Aussie share index - the ASX 200, plunged from 7162 to 4546 - a drop of almost 37% that sent plenty of investors scrambling for the exits.
But here's the rub. History shows us that the market has always bounced back from extreme lows.
Sure enough, from its low point in March 2020, the ASX 200 gained a massive 58% by May 2020, and was once trading again above 7162 before mid-year.
This highlights how trying to invest for that elusive short-term win is a risky business. None of us know what lies around the corner in equity markets - either positive or negative.
Long term gains remain healthy
If we look at the bigger picture, Australian shares have notched up total annual returns averaging 8.45% over the last five years, and 6.52% over the past three years.
Clearly, the way to win with shares is to hang on for the long term.
If you are not convinced, think of it this way. Ten years ago, the ASX 200 was trading at 4396. As I write, the ASX 200 is sitting at 7205. That's a capital gain of almost 64%. And along the way investors have pocketed some very tax-friendly dividends.
Global markets also perform best over the long term
I should add that our own sharemarket isn't unique when it comes to short term highs and lows.
The table below lists the annual returns for the MSCI World Index excluding Australia. It covers 22 developed markets, and shows just how widely returns on global stock markets can vary from one year to the next.
Seeing annual returns in this context - year by year, can make it hard to gauge long term performance.
In fact, global sharemarkets (excluding Australia) have delivered average annual gains of 10.82% and 10.98% over the last five and three years respectively.
What's really exciting is the way that international shares - just like Aussie shares - have steadily climbed upwards over time.
This is shown in the diagram below. Here we can see that yes, the market takes a tumble every so often. But share values always resume their upward march over time.
It's a pretty compelling argument for long term involvement.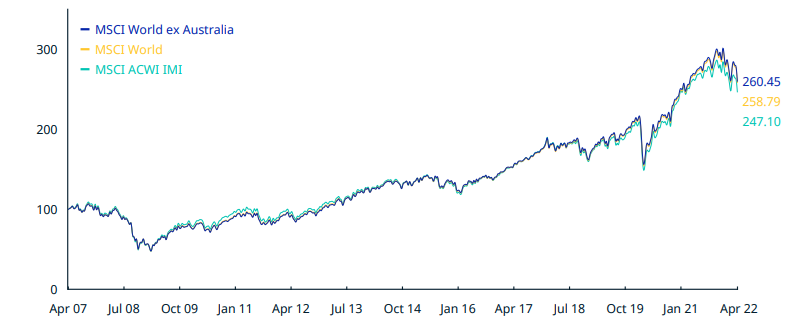 The upshot is that if your initial timing into the market isn't great, it's not cause for despair. The market is bound to recover and go on to new highs.
New Global Long Portfolio
To help investors take a long-range view, Jaaims has launched a new AI Active Global Long Portfolio.
It's a multi-strategy portfolio that uses AI to identify market sentiment by analysing over 250 different news and social media sources, while also harnessing the power of our market timing and risk management technology to determine real-time stock ratings.
This approach enables the algorithm to increase and decrease exposure when opportunities are scarce whilst protecting and mitigating exposure risk.
The AI Active Global Long Portfolio is designed to be the tool that helps investors reject short-term market plays, and focus on a broader horizon.
Any advice provided is general in nature and does not take into account the viewer's specific needs and circumstances. You should consider your own financial position, objectives and requirements to determine the type of advice and products to best suit your needs. Jaaims Australia is an Authorised Representative of Jaaims Technologies, AFSL 519985.
Get stories like this in our newsletters.