10 super funds that protect the environment (and your retirement)
Superannuation funds which offer an investment option focusing on environmental, social and governance (ESG) factors are performing just as well as their peers if not better, latest research shows.
In the 12 months to April 2019, balanced ESG investment options outperformed other balanced super offerings, says Rainmaker Information, publisher of Money magazine.
Further to this, Rainmaker's analysis indicates ESG super investment options are among some of the better performing options across one, three, five and 10 years.
For example, AustralianSuper's Socially Aware option is the best performer over 10 years in the balanced sector. WA Super's Sustainable Future option is the sixth best balanced option.
HESTA's Eco-Pool growth option is the fourth best over 10 years and fifth best over five years in the growth sector.
Alex Dunnin, executive director of research at Rainmaker says "these results show that investors give up nothing when they invest according to ESG principles".
Demand for ESG options
It's important to keep in mind these specific ESG offerings make up a small portion ($30 billion) of Australia's $2.9 trillion super system.
However, the sector grew 37% in the 12 months to December 2018, showing there's increased support for these options.
Dunnin says no longer do super funds or their members have to defend investing with an ESG focus.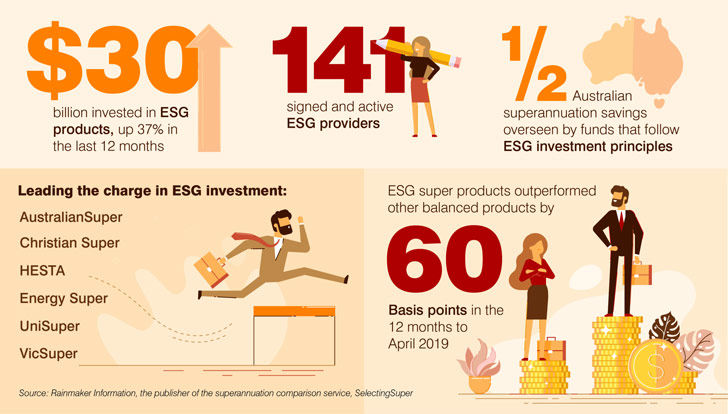 "It's now the other way around - how can long-run investors not take these factors into account?" he says.
Over the past decade, super funds have built their participation rate in global ESG awareness.
They now make up one quarter of 141 Aussie signatories to the United Nations-supported Principles for Responsible Investment (PRI). The PRI recently recognised several super funds as global ESG leaders including Cbus, First State Super, HESTA, Local Government Super, VicSuper and Vision Super.
Do we really care about ESG?
A recent KPMG survey of more than 1500 Aussie retail investors suggests you and I are more likely to accept a company with lower financial returns if it means they have behaved ethically towards customers, employees and the wider community.
This has implications for the future direction of where super funds invest because it shows we're prepared to move our money to more socially aware investment options, especially when companies disrespect shareholders' values.
Super funds collectively held about $700 billion in Australian equities as at May 2019, and predictions are that super funds will control more than half of the ASX within 15 years. Where this is invested will go a large way in determining your future super returns.
"Australian retail investors are now keenly aware of the importance of reputation, transparency, ethical behaviour, values alignment, and social responsibility," says Amanda Hicks, head of KPMG's customer, brand and marketing practice.
"Investors are not looking for directors and management with a laser focus on short-term returns. They expect more of corporate leadership and will shift their investment elsewhere if they don't get it."
Dunnin says while retail investors might be prepared to accept investing in a company with lower financial returns, "a super fund following ESG principles should never be used as an excuse for under-performance."
Alison Kitchen, KPMG Australia chairman, says retail investors have given company boards and management a green light to pursue transparency, honesty and more ethically and values-driven decisions.
Other key KPMG findings:
Transparency and honesty is more sought after than any other factor aside from returns.
A higher number rated reputation ahead of recent dividends when deciding which companies to invest in.
Executive pay is a major trigger for selling. While paying leadership and executives fairly does not drive shareholders to purchase shares (10% rank this in their top five), excessive leadership pay will drive them to sell (38% rank this in their top five).
Retail investors are not impressed by one-off philanthropic initiatives to 'do the right thing'.
Investors do read annual reports (89%). And they're not just looking at financial performance. Future strategy, board and executive remuneration and CEO/chair messages are the next priority reading areas for retail investors.