I'm on JobKeeper - will the bank still give me a mortgage?
You get approved for a home loan. Happy days.
But then COVID-19 hits, your employer loses revenue and puts you on JobKeeper. Despite still being gainfully employed, the bank comes back and lowers the approved amount.
This experience, had here by a reader of Money, is all too common these days.
All things being equal, being on JobKeeper shouldn't hurt your eligibility for a home loan in and of itself.
But if you're on JobKeeper, chances are you're now receiving reduced income. And this banks do care about.
"Customers may have been approved on their normal income, and when the banks become aware they're on JobKeeper and seen the reduction in income, that's what they're assessed on," Home Loan Expert CEO Alan Hemmings tells Money.
"The banks are looking at the income of the customer pre-COVID-19 and what they're on with JobKeeper, and then using the lower of the two to assess them for loans.
"They're doing this because there's no guarantee when the customer will return to a normal paying job."
However, some lenders may not accept JobKeeper as income if you're self-employed, a first home buyer, or working in an industry heavily affected by the pandemic such as aviation or hospitality.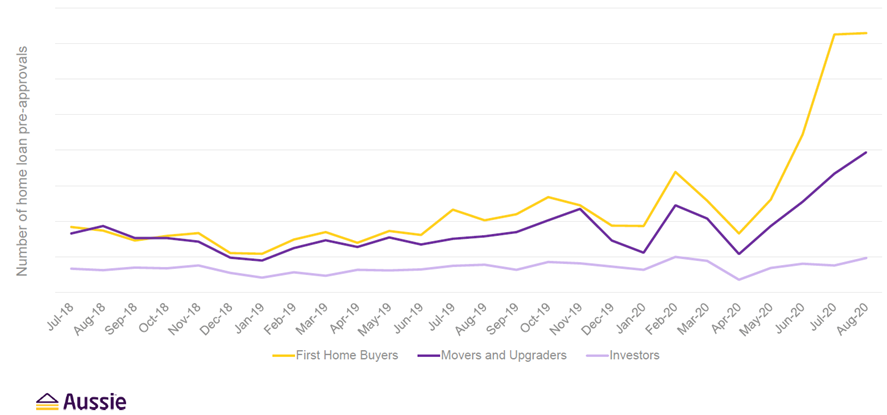 Consumers may be wise to the stricter lending standards.
Aussie has reported a record 71% jump in home loan pre-approvals across January to August.
"Overall, the figures show that borrowers are becoming smarter and better prepared before purchasing a property - which often is life's biggest investment," says Aussie CEO James Symond.
"There's a strong indication that people are giving themselves as much certainty as they can in an uncertain environment - and property seems to be where Australians seek that certainty to 'bank on' their future."
Most of these were first home buyers (53%), while New South Wales leads the way between the states and territories.
"First home buyers are recognising the opportunity in the current market conditions, while many are taking advantage of government initiatives such as the Federal Government's First Home Loan Deposit Scheme, which requires only a 5% deposit."
Get stories like this in our newsletters.