The dividend party is over - is it time to sell bank shares?
The profitability of Australia's big banks has declined markedly over the last decade and the coronavirus pandemic has highlighted just how perilous their financial state is. With less money being made, dividends have dropped or been deferred, so now is the time for investors to reconsider their exposure to the majors.
Over the past few years, despite low earnings growth and falling profit margins, the big four banks could be relied upon for their dividends. Now, COVID-19 has all but destroyed dividends, so it's likely investors will only be able to depend on token dividends at best.
National Australia Bank (NAB) was the first bank to slash its dividend payments last month by a whopping 64% while Westpac and ANZ have recently deferred dividends in the face of declining profits and in anticipation of more bad loans.
Macquarie Bank also recently cut its full-year final dividend by 50%, following pressure from the Australian Prudential Regulatory Authority (APRA), which has strongly recommended the big banks defer paying shareholders dividends given their operations have been severely impacted by COVID-19.
With interest rates set to remain at or near record lows as we more than likely face a recession, the big four domestic-focused banks are struggling to keep their own books in order.
NAB has had to turn to shareholders to raise $3.5 billion in capital to bolster its balance sheet in the face of the COVID-19 crisis after reporting a staggering 51% drop in its half-year profit to $1.3 billion.
Westpac recently reported a massive 70% drop in first-half cash profit to $993 million and has deferred paying shareholders a dividend until there's greater clarity on the impact that COVID-19 will have on bad debts.
ANZ too said it would hold off paying shareholders an interim dividend after its first-half cash profit plunged 62% after the COVID-19 hit. The market expects similar results from CBA as APRA strongly recommends the banks defer paying dividends.
Macquarie Group remains more profitable than the big four, reporting full-year profits of $2.7 billion, down a relatively modest 8%.
The bank yield party is over
Shareholders could see more dividend cuts and capital losses ahead, on top of those that they have already endured. The graph below highlights that the big banks are much less profitable now than they were 10 years ago.
Their return on equity (ROE) to shareholders has fallen from around 20% in 2008 to around 10% at current levels and is clearly on a downward trend. Put simply, banks have less money to give out.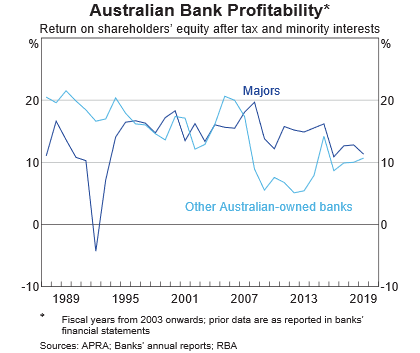 The worst could be yet to come for Australian households and, therefore, the banks. As unemployment starts to rise, households will have less money to spend and service their loans. Mortgage stress and defaults are likely to rise and house prices fall.
Apart from the coronavirus slowing the economy and the jobs market, other factors are depressing banks' earnings over the short to medium term. Demand for mortgages has dropped sharply, in line with the demand for housing, which will impact house prices. ANZ's results this month confirm this trend with the bank setting aside $1 billion for bad loans and the results indicating a significant slowdown in mortgages.
Moreover, as household debt continues to climb relative to household income, debt servicing costs will increasingly detract from demand for credit in other areas like credit cards and personal loans, further hurting banks' businesses. Economic growth will be under pressure as consumer spending accounts for a significant portion of economic activity and economic activity drives banks' profits.
These headwinds are problematic for bank shares and for the many Australian investors whose portfolios have significant exposure to the big four banks. The four pillars (CBA, Westpac, ANZ and NAB) represent about 20% of the S&P/ASX 200.
In other words, if you hold a blue chip portfolio or are invested in an active or passively managed Australian equity fund that tracks or benchmarks to the S&P/ASX 200, $1 out of every $5 is likely to be invested in the big four banks and therefore vulnerable to the risks they face.
With so many risks ahead, the time could be ripe for Australian investors to act and lighten their bank concentration, a risk inherent in the S&P/ASX 200, and most Australian portfolios.
Get stories like this in our newsletters.