'We only fill one bin a year': meet the zero waste family
When Nic Turner drags her wheelie bin to the kerb outside her home in Cambridge, in New Zealand's North Island, it rattles with a few broken toys that couldn't be fixed or recycled.
The only other thing in there is some worn-out fabric from her family's well-loved clothes.
Unlike her recycling bin that's placed on the street every two months, it's rare to see a wheelie bin outside Turner's home because, incredibly, she and her husband Mike Ryan produce just one lot of rubbish a year.
In 2012, the parents to daughters Asha, four, and Makhi, two, made a complete 180-degree turn in the way they approach shopping and waste.
"It was a process of making one small change at a time so it didn't feel like a big deal," says Turner, 40, who has swapped a fast-paced corporate career in New York, Sydney and Auckland for a quieter, down-sized life in the Waikato region.
There were two reasons the self-titled "behaviour changer" took the dive into a minimalist lifestyle - the first being her eye-opening, 18-year career in the consumer goods industry.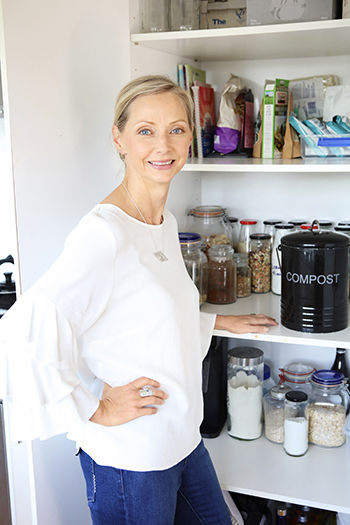 "My area of specialty was understanding how we behave as shoppers in the supermarket and how we can orchestrate people into buying more," she says.
"I started thinking, 'There's something not quite right about this,' as it was very much about driving consumption."
The second trigger was 38-year-old Ryan getting dermatitis on his hands, leading the duo to question if something they were using on their skin had caused the rash.
So they started reducing their chemical load, starting with certain soaps, moisturisers, cleaning products and laundry powders. As they went through this process, their interest in simple living began to grow.
"We went through other areas of our house and soon we were hooked on the whole minimalism thing. We got rid of a lot of stuff on Trade Me."
New mindset
The couple, who have been together for 10 years, then took the next step of minimising their food waste, which Turner says forms a huge part of the average household rubbish bin.
"We started looking at how we could reduce our food wastage and got better at buying in bulk, storing leftovers in the freezer and creating compost - and then we made a worm farm."
Once Turner and her IT husband had children, they opted for reusable nappies over disposable ones and with just one toy box for both girls the family started renting items through their local toy library.
"We've had to change our thinking around gifts too," says Turner.
"Now we focus more on experiences over things, so for birthdays and Christmas we'll do activities together instead - and the girls love it."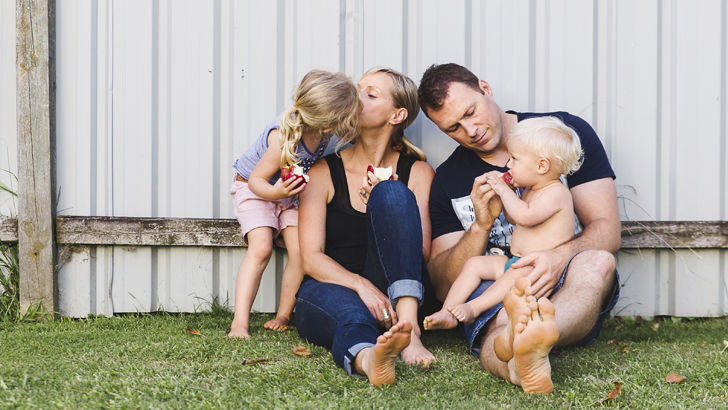 Other new habits include taking their own containers to the butcher or when they're out for sushi, and they've invested in reusable coffee cups for purchasing their daily caffeine fix.
Since shifting from Auckland's upmarket suburb of Parnell to their modest Cambridge home, Turner has also altered her clothes shopping habits. She now works around a "capsule wardrobe".
"We focus on quality over quantity - fewer, better items that work well together," says the vintage shopping guru.
"I often source mine from recycle boutiques and fix things as opposed to getting rid of them."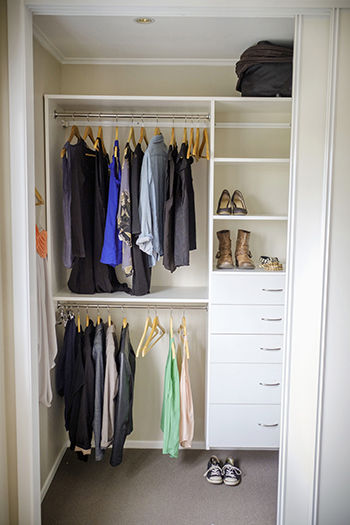 When the family's clothes wear out, Turner cuts the material into squares for rags, and if they're natural fabrics such as cotton she'll put them in the compost once they're no longer usable.
The less-is-more concept has other benefits too.
"It's great from the point of view that my washing pile never gets too big," says Turner.
She also points out that while her shopping habits are tight, it's not that she doesn't like nice things.
"Society's just become very programmed to go out and buy something new or replace something that can be fixed."
New career
Since this bout of self-educating, downsizing and decluttering, Turner has also changed her career.
In the past three years, the founder of Mainstream Green, which promotes "greenfulness", has worked with more than 1000 people to help them to make changes like she has.
The determined greenie also works alongside local councils and businesses, and runs tours through her home to display exactly how her family lives.
So what's her advice to people wanting to reduce waste?
"It's about having that micro-pause while you're out shopping to think, 'Do I really need this? Do I really want it? Is there an alternative that's not creating so much waste?'
"It's easy to get overwhelmed by the changes you need to make. But it's about focusing on doing one thing at a time and then you can make other changes."
First published in Woman's Day
Get stories like this in our newsletters.