How to cash in on soaring land values by subdividing
Looking to cash in on the property boom? If you've already got an investment property or own your own home, there might be a way to take advantage of soaring property costs without having to purchase a new property.
Subdividing is the gaining traction in Sydney and Melbourne, where land values have catapulted by as much as 19% over the past 10 years.
According to the March edition of the Housing Industry Association's (HIA's) Renovations Roundup report, renovation activity across the country grew by 2.7% in 2016 to $33.06 billion.
Shane Garrett, HIA senior economist, says 2016 marked the strongest year since World War II for new home building starts.
What makes a property worth subdividing? From the start you need a thorough understanding of your local market.
Your investment is only going to be worth it if the existing property is in area of low supply and high demand - you can get a feel for this by having your property assessed by a valuer.
If it has gone up in value considerably over the past few years, subdividing could be a great way of realising the full potential of the land you already have.
However, it's worth noting that subdividing doesn't come without large upfront costs and a lot of time and effort.
Check the rules
First you have to work out if subdividing is even an option for your property. Each council has guidelines for subdivision, with rules and regulations differing greatly from area to area and state to state.
Before you spend money on a property surveyor or town planner, it's a good idea to check your town plan to get an idea of the minimum lot size requirements and zoning restrictions for subdivision. Some types of zoning don't allow subdivision.
If it's doable, your first point of contact should be a surveyor or town planner to guide you through the development process.
They will be able to help you identify how many lots you can create according to the property's size and incline, and draw up the site plans to lodge with the council.
There are a few different types of subdivision to choose from - for example, you can split your block into two or more lots and build on the vacant land, or you could convert your land title to strata and build a block of units. What you can and can't do will depend on your council.
At this point, it's important to note that subdividing can be an expensive process.
Before you even think about building on your potential new lot(s), you must consider the planning and application costs.
Justin Eslick, director of the Investigate Property buyer's agency in Brisbane, says consultants will be one of the biggest expenses, costing around $17,000 on average for a fairly straightforward subdivision. Complicated subdivisions requiring more professional services to meet council regulations will cost more.
"The rules and minimum lot sizes differ from council to council so a local planner for your area should be your first port of call," says Eslick.
"For a small lot subdivision, at the very least you will require a surveyor, a town planner (or a surveyor who can carry out the town planning on your behalf) and a civil engineer. These three will get the job done for the majority of the project but for more complicated sites additional consultants such as an architect, acoustic engineer, traffic engineer, arborist and certifier may be required."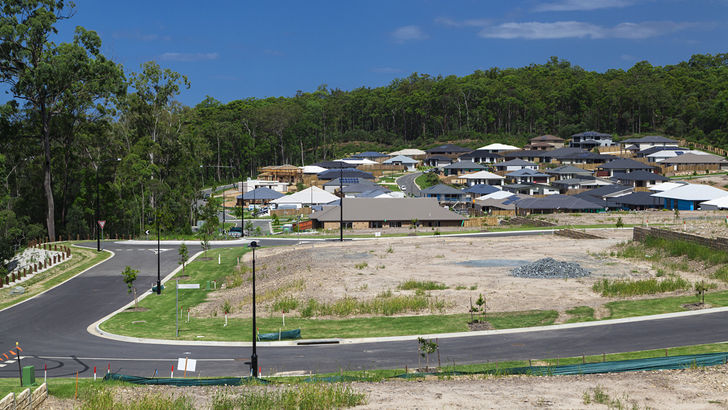 Make the connections
To legally qualify for sale, most local councils will require your new lot to be connected to water, drainage and sewerage - even if you're selling the land only. It sounds easy but it's often a complicated and expensive process.
According to Gateway Survey and Planning in Queensland, minor subdivisions can cost between $50,000 and $100,000 to connect a new block of land to water and sewage. It's a huge expense to consider, especially if you're looking to subdivide a big block into several smaller blocks. In any case, you're definitely up for a significant outlay before seeing a return from the sale of your new land.
Eslick says the cost for connecting to water and sewerage is hard to pin down in the planning phase because it often involves unseen complications.
Sometimes access to both connections might involve digging on a neighbouring property and in some council jurisdictions if you don't get permission from the neighbour you won't be able to subdivide at all.
"Sometimes connections to water and sewerage are straightforward. Other times you may need to bring them from some distance away and underground, which if you haven't allowed for can blow your feasibility right out of the water immediately," says Eslick.
"A new water and sewer connection can range anywhere from about $7000 to $50,000, and on the odd property even higher than this, depending on where the services are located. You can't therefore just apply a nominal figure in your feasibility each time you investigate a purchase."
Extra complications
Getting your new property to comply with council regulations can take up a lot more time and money than you think.
You have to consider the slope, access to the road, the position of your existing property and whether partial or full demolition is necessary for development (or, depending on the age of the dwelling, even allowed under heritage laws) and the difficulty of removing any existing vegetation on the new site (and depending on the plant species, whether it can be removed at all).
The slope of the land is a big one in terms of how much it might cost.
If the council believes there are issues with overland flow in particular rain events, it may require a hydrological engineer to fix things, which can cost you up to $5000 and take a couple of months to sort out, if it's even possible.
"In many cases you need to capture all of the rainwater that falls on the site, not just roof water, and then direct that to a lawful point of discharge," says Eslick.
"Generally councils do not want to be creating new flood-affected properties, and filling these sites in order to get above flood levels often isn't possible as the result can be the displacement of water into other people's properties. In instances where filling is required and allowed, the cost can quickly get away from you and there is usually a maximum level you can fill to."
In regard to road access, Eslick says existing infrastructure might make this process incredibly difficult and expensive.
Take notice of any nearby traffic islands, intersections, bus stops and street trees. The council may also request that you pay to complete the kerb and guttering for the new property. Fifty metres of kerb and guttering can cost up to $30,000.
Costs for subdividing will vary from property to property but in most cases it's usually a significant outlay before any profits are realised.
If getting your DA approved is going to cost you around $100,000, it's worth considering whether you necessarily need to build on the land before sale. Perhaps just subdividing and selling off the vacant land will be enough to turn a profit. In any case, make sure you discuss projected costs with your surveyor or planner and accountant.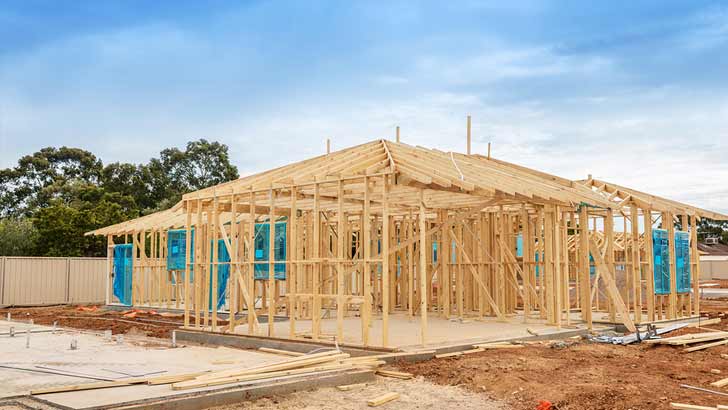 Find a suitable site
New to the market? Or looking for subdividing opportunities? There are a few things you need to look for when searching for a good subdividable property.
Size and zoning
Each council has specific rules for the minimum lot size and zoning for subdivision. When it comes to potentially subdividable properties, the rule of thumb is the bigger the better. Look for properties that are at least 700sq m - that should be able to cover you for minimum lot size.
In any case, check the town plan to make sure you can subdivide before you buy.
Driveway
A good subdividable property will need around 2.5m to 3.5m of space for a driveway, including landscaping.
Consider the new block's access to the road before you buy. A corner block could be prime real estate. Not only will it be easier to connect to the road but it is likely to have a kerb and gutter. It's a good idea to consult a town planner or surveyor before you purchase.
Slope
Councils are very strict about rainfall retention. Flat lots are easier and cheaper to subdivide than a sloping block, which may need digging and retaining walls. The minimum size requirements will change depending on the slope, so it's important you discuss this with your planner.
Structure
To keep costs down, it's important that the existing dwelling is well built in case you need to move things around.
This will keep your construction costs down.
Market movement
Your ideal property for subdivision should be one in high demand with low supply. This will lower the risk of your investment. You must also think about the direction of the market - if it slows before you are finished, often the first people to drop out of the project are your speculative builders and buyers as there is less certainty.
Tax implications
If you subdivide, developing in itself doesn't attract a tax because you technically haven't sold anything.
You only need to worry about tax after you start selling off or renting out the new land.
Perhaps the sweetest tax perk when it comes to subdividing is the main residence exemption, which disqualifies the property you're living in from attracting capital gains tax at the point of sale.
Mark Chapman, from H&R Block, says that potentially, if you lived in each of your new developments, you could sell all the new blocks, one by one, free of capital gains tax"Your current house is covered by the main residence exemption so that's CGT free when you sell, and if you build a house on the other block and move into it, then that becomes your main residence," he says.
"There's no time limit to qualify the main residence; it's all about physically making it your main residence.
It has to be your address on the electoral register, it's on your driver's licence, you get your post sent there - you've actually lived there. You can't sell each property at the same time - you still have to move from one to the other - but ultimately you can sell both your existing property and your new development CGT free."
If you rent out your new development or move into it and rent out your existing property, this will affect your income tax.
You also mustn't forget to get your property evaluated at the time of subdivision. Chapman says this is important for establishing the correct capital gain on the properties you eventually sell.
"If you are subdividing your property, it's worthwhile getting an evaluation done on the two blocks at the time that you do it, because further down the line when you actually come to sell you will need to apportion costs between the two blocks," he says.
"You might think it's a straightforward 50-50 but one block might be worth more than the other, so it's worth getting someone in to do an evaluation to ascertain what the relative split is between the two blocks."
Get stories like this in our newsletters.