'We didn't need luxury - we needed freedom' says early retiree Dave
Three years ago we first profiled seven Aussies who are working towards early retirement.
Money caught up with them again to find out how their plans and investments have fared during COVID-19.
Read more about the early retirees who know there's more to life than work, and how to be inspired by the FIRE movement.
NAME: Dave
RETIRED: At 28
INCOME NEEDED: $45,000 a year for Dave and his partner, Alison, and dog, Boss
INVESTMENT STRATEGY: Selling down investment properties and buying more index funds. Currently buying real estate investment trusts. Owns some peer-to-peer investments.
Dave's remarkable achievement of retiring at 28 began when he was 19 and working with people much older who unhappily lived pay day to pay day. It dawned on him that he didn't want to work every week to pay the bills in a job he loathed.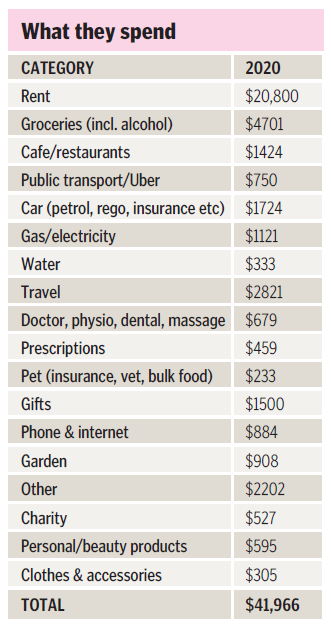 "The only way to escape this treadmill was to become wealthy. And the best way to achieve that was investing," he says.
He saved hard and by 23 he had bought two properties. His partner, Alison, also bought a property with her savings.
"Luckily she also bought into the idea of financial independence," says Dave.
They both earned around $75,000 on average and diligently kept their living expenses to $45,000 a year on average - which is where it sits today. Of this, around $20,000 covers rent.
Their combined income of around $115,000 after tax meant they were saving $70,000 a year.
"If you plug that into a compound interest calculator, with a return of 7% per annum, in 10 years you'll have just under $1 million.
"We simply don't buy stuff we don't need and in a wealthy and beautiful country like Australia, that turns out to be a lot of stuff."
They cook at home instead of eating at restaurants. They exercise at home and live opposite a park where they walk their British bulldog, Boss, every day. They travel locally and make lattes at home rather than visit cafes.
"We also live in moderately priced housing, and avoid upgrading our car and phones."
Dave was surprised how quickly financial independence happened.
"When we reached it, we didn't need as much to have a good life. We didn't need luxury at all. We needed our freedom. We reached financial independence because our savings rate was high. It was saving that drove all the progress."
In 2014, Dave came across the idea of investing in shares and funds for dividends.
"After doing some more research, making a few investments and receiving a few dividend payments, I was hooked. Simply buy a parcel of shares in a good company or an index fund, and it spits out increasing sums of money at you over time," he says on his blog, strongmoneyaustralia.com.
Dave is wary of investing in property, He says it is dogged by costs such as council rates, management fees, agent fees, conveyancing, stamp duty, insurance, vacancies, maintenance and repairs.
"These costs are glossed over massively. Even people into property don't realise their real costs. There's always an email that someone is moving out."
Not surprisingly, Dave has sold a few of his investment properties and invested in easy-to-monitor index funds and ETFs. He has also bought into older-style listed investment companies when they trade at a discount. Four years ago he put money into peer-to-peer lending, which has worked well.
Dave enjoys the freedom of not working and describes his life as "active and healthy". He writes regularly on his blog, connecting with FIREs around Australia and overseas.
Dave's tips
Saving is the key to an early retirement.
"We found a way to optimise each category of spending to get the most benefit for the lowest cost."
FIREs also need to be flexible and adjust their plans if necessary. For example, he considered buying a home but decided instead to keep the assets that provide his income.
Favourite FIRE resources
lifelongshuffle.com
thefiexplorer.com
joyfulfrugalista.com
thisabundantlife.podbean.com
aussiehifire.com
fireforone.com
latestarterfire.com
moneyflamingo.com
aussiefirebug.com
burningdesireforfire.com
Ben Carlson: A Wealth of Common Sense (US)
Get stories like this in our newsletters.