Murray Cook on The Wiggles, wealth and his worst investment
Murray Cook is former Wiggle (the red one) and now lead guitarist in the Soul Movers. His passion is music - he's spent his life playing in bands and is regularly spotted at live gigs.
As one of the original Wiggles he played all over the world, from halls and stadiums to New York's Madison Square Garden.
For more than two decades he developed a loyal following of (now) adults who grew up with him and who are now starting to introduce their own children to The Wiggles. He was recently billed by a leading guitar magazine as "Australia's most influential guitarist".
What was your first job?
My first job as a teenager was at Woolworths packing groceries, then at McDonald's. After leaving school I worked for the tax office while moonlighting in bands (Transistors and the Finger Guns) in the '80s. The ATO wasn't intended to be a career but I stayed longer than I thought (eight years) as it was a good job and it had flexitime so I could always roll in late if I had to.
The Wiggles came along at the end of the '80s. I'd decided music wasn't going to be the thing for me, so at age 28 I went to uni and did early childhood teaching and met Anthony (Field) and a little bit later Greg (Page). We recorded an album for kids and then went full time with The Wiggles.
My intention was to be a teacher, and I went out and taught and was offered a job tutoring. I probably would have ended up in academia had I followed it through. Making music was my hobby that became my job and my life.
What's the best money advice you've received?
From my dad I learned to put money into real estate. Real estate is fairly safe, maybe not the best returns, but you can't go wrong so I continued down that path. When The Wiggles made money, I'd always put it into the mortgage. If you own your own house you're living fairly cheaply. I'd give that advice to my kids as well.
What's the best investment decision you've made?
I think buying my first home in Newtown. We actually probably spent more than we intended.
It was a great place and things went pretty well with The Wiggles and we paid if off quicker than we thought.
What's the worst investment decision you've made?
I was a partner in a retail music store in Melbourne with a friend. Best not to go into dealings with friends.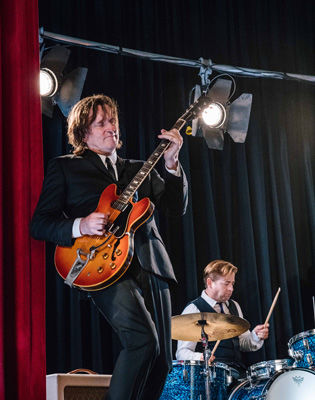 What is your favourite thing to splurge on?
Guitars. When The Wiggles started making pretty good money and we paid off our house I started buying vintage guitars because I always wanted them. It's called GAS (guitar acquisition syndrome). I did sell a few but there are some I'll always keep. The great thing for me is they are tools of my trade, a good investment and beautiful - particularly Fender Stratocasters from the '50s.
If you had $10,000 where would you invest it?
Probably another guitar. They range between a few thousand and $25,000. The holy grail in electric guitars is the 1958 and 1959 Les Pauls and they go for up to $500,000. I don't have one of those and am not likely to - they're beautiful but that's ridiculous.
What would you do if you had only $50 left in the bank?
Probably have a nice meal somewhere.
Do you intend to leave an inheritance?
I'd hope to but it's not high on my agenda because I don't think much about dying. I say to my own parents, if you need to spend the money, spend the money. I wouldn't go without to leave one.
What musical achievement are you most proud of?
Apart from The Wiggles in general, I think the fact that a lot of young people in their 20s say they got into music because of the group. When they say "I started paying guitar because of you", to me that's very rewarding. Another thing I'm really proud of is turning people on to live music. We're seeing some of those young people now coming to Soul Movers shows. They come at first because they are interested to see what I'm doing and then they find they love the music.
Finish this sentence: money makes
... your life easier, but in itself it doesn't really make your life happier - but it does help.
Get stories like this in our newsletters.