Elon Musk breaks world record after losing $263 billion
Elon Musk breaks world record, Australia's least cyber-savvy generation (it's not who you think), and what women are doing better than men. Here are five things you may have missed this week.
Elon Musk suffers worst loss of fortune in history
The Tesla boss has officially made it into the Guinness Book of Records, but probably not in his preferred category.
Musk has officially broken the world record for the largest loss of personal fortune in history.
His wealth has tanked by approximately $US182 billion ($A263 billion) since November 2021 though some sources suggest the figure could go far higher.
Musk's total losses beat the previous record of $US58.6 billion ($A84.8 billion) set by Japanese tech investor Masayoshi Son in 2000.
The dip in Musk's wealth is largely due to the poor performance of Tesla stock, which is trading at about $US131, down from $US402 in November 2021 - a drop of 68%.
Tesla is facing stiff competition as other manufacturers drive into the electric vehicle market. In a bid to shore up demand, the company slashed the price of some its cars this week by up to 20%.
Younger Australians the least cyber safe generation
As small business owners grapple with how to protect themselves and their customers online, new research shows young Australians are less likely to be aware of cyber threats compared to their older counterparts.
A new survey by the Council of Small Business Organisations should send a warning to small business owners who rely on younger family members or employees to manage their technology.
The survey found two-thirds of small business owners believe tech-savviness equates to cyber safety skills.
But that's not the case.
While Gen Z employees (those born after 1997) have grown up with TikTok and Minecraft, the study suggests this generation of digital natives is among the least cyber-safe.
The safest pair of hands in the small business community appears to be Gen X-ers and upper Millennials in their 30s, who are the most likely to take cyber security seriously.
Women lead the charge for saving and budgeting
Faced with rising living costs - and a nervous wait to see if the Reserve Bank will hike interest rates again in February - Australians are focused on getting on top of their money.
A survey by Savvy has found:
53% of us will create a budget to keep our finances in order.
64% will use existing savings to pay off Christmas expenses, and
24% of Australians intend to save more money than last year.
Women are getting especially serious about bringing their finances back into line, with 62% planning to use a budget and one in five (20%) pledging to set up an automated savings plan, compared to 12% of men.
Oh No-el: 10 million in debt from Christmas
A credit-funded Christmas has pushed millions of Aussies into hock according to Finder.
Almost half of us - equal to 9.8 million people, have racked up festive debt. And for one in three it will take up to five months to clear the slate.
The findings coincide with an uptick in the nation's credit card debt for the second month in a row.
The value of card debt accruing interest currently sits at $17.3 billion. That's far less than we owed back in 2020, when card debt was nudging $20 billion, but it looks like bad habits could be creeping back.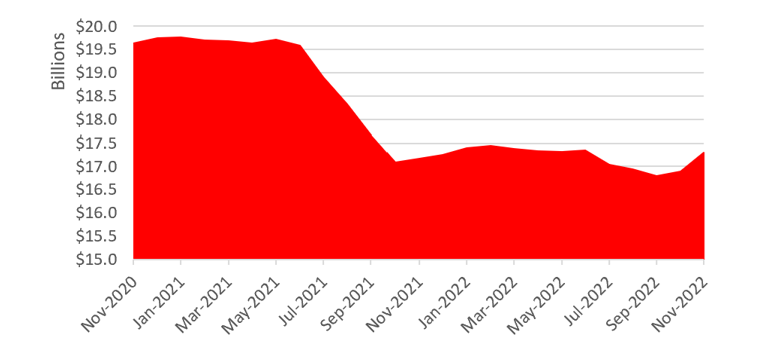 Sally Tindall, a researcher with RateCity, says, "Many family budgets have been through the wringer over the last couple of months as the cost of just about everything continues to rise.
"While the credit card can help plug a hole in the budget at the end of the month, it's a quick fix that can easily unravel when the bills start rolling in."
If your card debt is looking a little unmanageable, a balance transfer deal could be worth a look.
The Citi Clear card and Virgin Money Low Rate card both have 0% deals for 36 months. Or if you just want a low rate for the outset, G&C Mutual's Low Rate Visa comes with a rate of 7.49%.
New credit score product launched
Digital lender MoneyMe has launched a new credit score product after a trial attracted over 37,000 customers eager to know their score.
The MoneyMe Credit Score product, available through the MoneyMe app, leverages credit file data from credit bureau Experian.
It allows users to check their credit score for free (without affecting the score), see what's on their credit file, and understand their approval chances with MoneyMe's credit products.
Clayton Howes, MoneyMe's CEO and managing director, says, "We are pleased to offer a free credit score service to customers to help them get a better understanding of what impacts their credit score, and ultimately their ability to access credit in the future."
MoneyMe applies risk-based pricing, which means the rate offered to customers can change depending on an assessment of the customer's credit worthiness. Long story short, a higher credit score may lead to a lower interest rate.
Get stories like this in our newsletters.